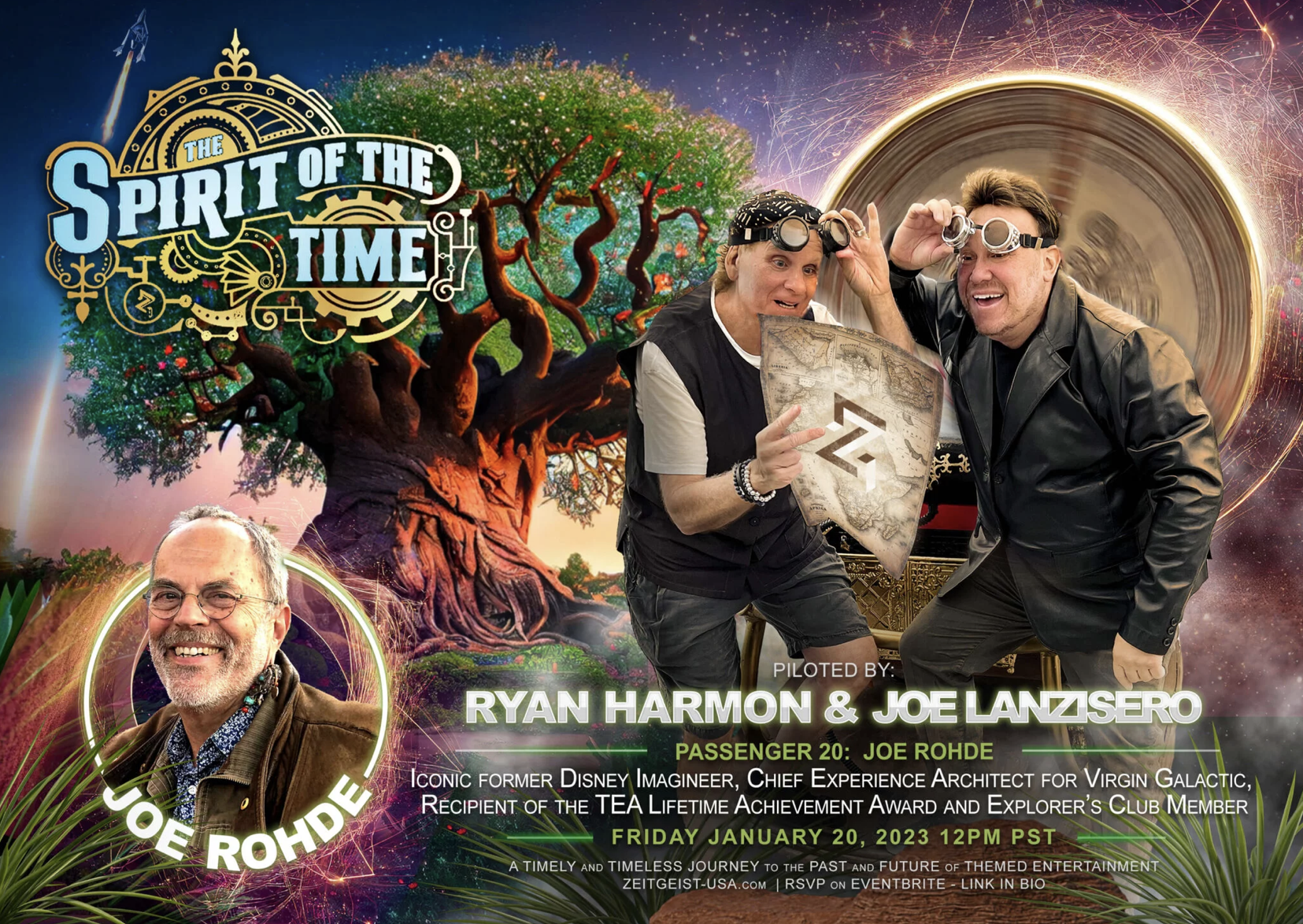 Joe Rohde to Board the Time Machine and Discuss Life, Disney Projects, and Earrings at 12 p.m. PST on Friday, January 20, 2023
Pasadena, CA - January 17, 2023 - The world's preeminent experiential design studio, Zeitgeist Design & Production, has launched a podcast version of its successful live Zoomcast, "The Spirit of the Time" and plans to kick-off 2023 with time travel passenger Joe Rohde.
Begun on April 30, 2021 and hosted by industry leaders and Zeitgeist executives Ryan Harmon and Joe Lanzisero, the popular "Spirit of the Time" live online video interview show offers a sneak peak behind the themes, inviting one iconic themed entertainment industry icon aboard the company's time machine each month for a journey through milestone moments in that individual's life and career with the goal of unraveling the mystery of what makes a guest experience timely, yet timeless.
Past passengers aboard the time machine include Disney designer/illustrator Tim Kirk, Universal horror monger John Murdy, pop culture artist Shag, Universal Creative founder Bob Ward, and three of the "Women of Imagineering:" Peggie Fariss, Tori McCullough, and Beckie Bishop.
Once archived only as a video on the Zeitgeist website and YouTube channel, the popular show that appeals to fans of theme parks, Disney, Universal, and worldwide location-based entertainment is now available as an audio-only podcast on all popular podcast apps, including Apple Podcasts, Audible, Spotify, and Google Podcasts. Listening is always free.
On Friday, January 20th at noon PST, The Spirit of the Time Zoomcast will kick-off its third year of production and 20th episode with Disney legend Joe Rohde. Celebrated worldwide for his decades at Walt Disney Imagineering and for spearheading such beloved parks and projects as Disney's Animal Kingdom, Disney's Aulani Resort, Expedition Everest, Pandora — The World of Avatar, and Guardians of the Galaxy — Cosmic Rewind — and now contributing to the future of space tourism for Virgin Galactic, Rohde is a creative force instantly recognizable for the extensive collection of exotic earrings in his left ear.
"We've been thrilled by the response to our notion of documenting the extraordinary lives of our incredible friends and colleagues on video," says Zeitgeist founder and co-host Ryan Harmon. "There are some great fan-based podcasts out there, but The Spirit of the Time marks the first time that the minds behind the magic have congregated monthly on a live stream and take real-time questions from viewers." 
"Our interviews recognize these superstars, while also documenting and sharing a real insider's view of how entertainment experiences take shape, from concept to reality" adds co-host Joe Lanzisero.
"Set your clocks for an hour of stimulating conversation with some of the world's most creative minds," adds the show's on-air co-producer Beckie Kiefer. "The Spirit of the Time Zoomcast offers a little bit of time travel, a little bit of themed entertainment history, and a whole lot of fun!"
The Spirit of the Time Zoomcast can be found at www.zeitgeist-usa.com/zoomcast and on the Zeitgeist Design & Production YouTube Channel. Search "Zeitgeist's Spirit of the Time" on your favorite Podcast app.
About Zeitgeist Design + Production 
Founded in Pasadena, California by 36-year themed entertainment industry veteran Ryan Harmon in 2011, Zeitgeist Design + Production tells the tales of some of the world's most successful brands, intellectual properties, and historical accounts through the creation of UX-IRL — User Experiences In Real Life, including innovative location-based entertainment, brand experiences, experiential retail and marketing, interactive and multimedia experiences, and more. From the initial creative vision and strategy, to master planning and design, to turnkey production solutions, Zeitgeist Design + Production has created successful and beloved guest experiences for clients including Walt Disney Imagineering, Disney Cruise Lines, Chimelong Group, Universal Creative, BBC Worldwide, Saudi SEVEN, and many more. 
For more information, please visit www.zeitgeist-usa.com
Media Contact
Company Name: Zeitgeist Design & Production
Contact Person: David Triana
Email: Send Email
Country: United States
Website: www.otterpr.com