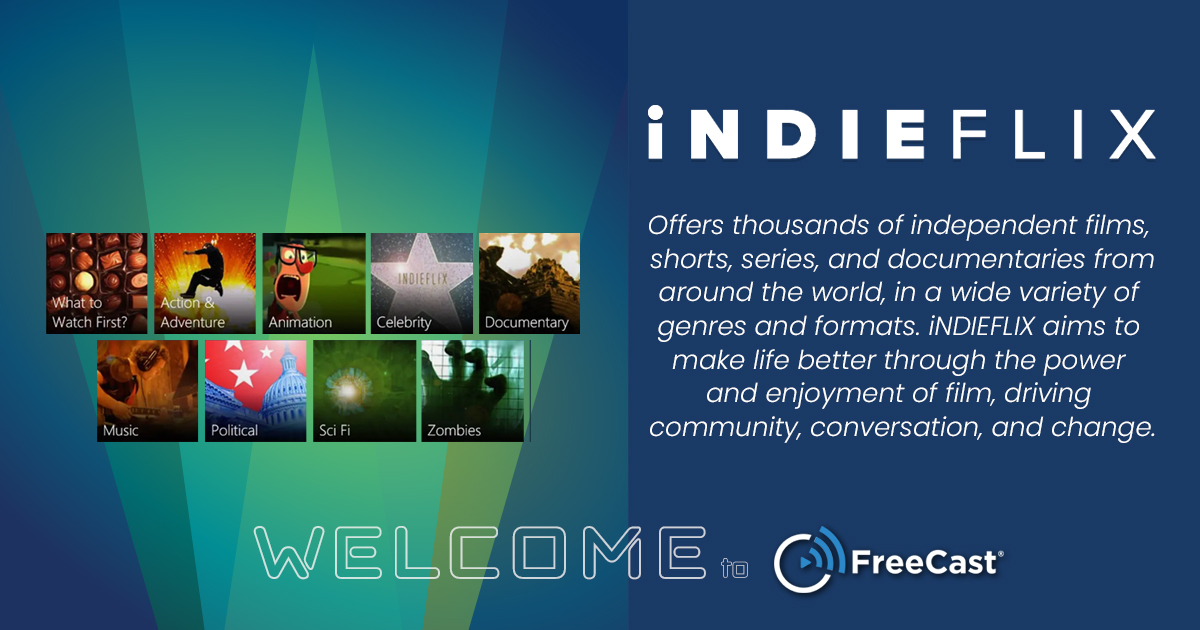 The popular independent film channel is the latest of over 700 free channels on FreeCast.
FreeCast is announcing a new partnership with iNDIEFLIX, a channel that specializes in independent movies and content, bringing another free ad-supported television (FAST) channel to the FreeCast service. iNDIEFLIX offers thousands of thought-provoking, quirky and relevant, award-winning independent films, series and documentaries from around the world, in a wide variety of genres and formats.
iNDIEFLIX aims to make life better through the power and enjoyment of film, driving community, conversation, and change. More than just a channel, iNDIEFLIX operates a 501c3 foundation supporting the making of educational films, and hosts virtual independent film festivals around the world. The content featured aims to feed people's curiosity with inspiring, unusual, and enlightening stories told via independent films.
"We are excited to be getting into FAST channels and looking forward to continuing to highlight, promote, and create more revenue streams for independent filmmakers." said Ian Andreen, Director of Streaming for iNDIEFLIX.
Tracy West, FreeCast's Executive Vice President of Digital Content, discussed the importance of indie films to the entertainment industry. "Indie films play such an important role. When a major Hollywood studio invests tens or hundreds of millions of dollars to make a high-profile movie with star-power, they want to make sure they have a safe winner on their hands. Independent films provide the opportunity for up-and-coming actors to make a mark through smaller budget films. At FreeCast, we celebrate and support and aim to empower bold, innovative, and independent content creators in a way that the established media industry can't."
Media Contact
Company Name: FreeCast Inc.
Contact Person: Kevin Speedy
Email: Send Email
Phone: (407) 374-1607
Address:6901 TPC Drive Suite 200
City: Orlando
State: Florida
Country: United States
Website: https://freecast.com