Maco Corporation India Pvt. Ltdhas Genie make AWP, Scissor & Boom Lifts on offer for sale& Rental to ensure efficient and safe access solutions to high reachup to180 ft maximum.
Kolkata, West Bengal - March 23, 2023 - Maco Corporation India Pvt. Ltd is a top provider of Genie scissor, Telescopic & Articulating Boom Lifts in India. Moreover, it provides Scissor lift, Telescopic & Articulating boom lifts on rent in Bangalore, Hyderabad, Chennai, Delhi& Kolkata. It can provide customers with access to a variety of Genie lifts as an authorized Genie Distributor lift rental service.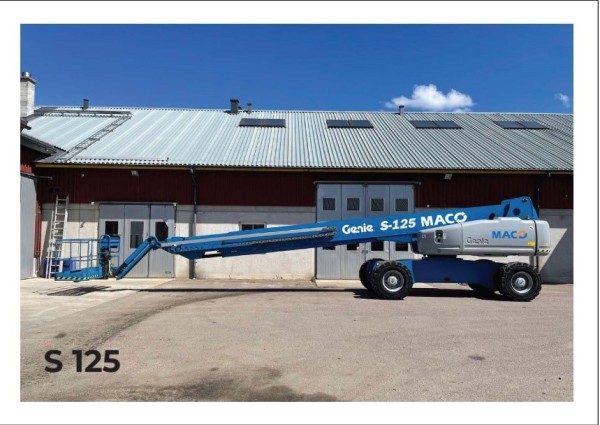 Construction, facilities management, aviation, and other sectors use these scissor& boom lifts to carry out a variety of activities at heights. To ensure total protection when working at heights, it is essential to engage a scissor or boom lift supplier.Any application whereconventionally a ladder, tower, or scaffolding would be needed may be managed with a scissor lift or Boom lift on rental.
Operators may execute such tasks more quickly and securely using scissor or boom lift rentals since they do not need to set up other devices first. Also, it guarantees a higher level of balance & safety than a ladder. The Rental Fleet of Genie Scissor & boom lifts of Maco Corporation India Pvt. Ltd includes a variety of equipment based on labeling, operational height, lifting capacity, and potential outreach. It provides products including slab scissor lifts, diesel scissor lifts, difficult terrain scissor lifts, electric scissor lifts, battery boom lifts, diesel operated boom lifts and more.
Regarding any aspect of the apparatus, these resemble electric scissor lifts in terms of style. Customers may examine work with greater force with the help of an electric scissor lift. Some of the top features include increased battery capacity, higher output, more adaptability etc. There is more independence at work. The service life is quite high, and the products are the best in class. These are easy to transport.
When you need an elevated work platform but don't have the space for a conventional scissor lift, call Maco & we offer the solution to your narrow access troubles with battery powered mini scissor lift. Also, Maco offers you the most workplace, highest reach & heaviest lifting capacity available in any scissor liftwith Pothole guards reduce tip-over hazards & fully proportional joystick drive & steering for easy operation.
Genie Articulating Booms give you up, out & over positioning capability. Units optionally equipped with articulating jib extensions&Engine options include electric & diesel power.Electric models feature fume-free, quiet operation & are best suited for smooth construction & maintenance applications. The diesel operated are suited to rough terrain with better gradeability in 4 wheel drive configuration.
Genie telescopic boom lifts for construction, mechanical contracting, painting, glazing, house keeping electrical work & industrial maintenance. Platform rotation 360 deg for easy boom positioning and self-leveling platforms are standard. Booms can be raised, lowered& extended horizontally while the work platform remains straight & stable. You can maneuver and steer in any direction, even while the platform is extended.
At present we are catering our services through supply or rent to almost all industries like Steel, Power, Refineries, Petrochemicals, Defense, Railway, Chemicals,Infrastructure, Construction, Facility management, Aviation & others.
About Maco Corporation India Pvt. Ltd
Maco Corporation India Pvt. Ltd is a company in Kolkata that offers high quality services, hi-tech equipmentand solutions to the Indian Industries. Its products, such as Genie Telescopic, Articulating Booms & Scissor Lifts, are used in India as well as in adjoining countries. Today Maco is one of the leading representatives of internationally acclaimed overseas Manufactures of Industrial Equipments. Our Seven(7) offices having Sales & Services Team and three (3) spares depots at Mumbai, Kolkata & Chennai are strategically placed at major metros & key industrial locations throughout India facilitating smooth business relationships with customer and providing timely service.
For the rings, or to make any enquiry, visit the website https://www.macocorporation.com
Media Contact
Company Name: Maco Corporation India Pvt. Ltd.
Contact Person: Media Relations
Email: Send Email
Phone: +91 33 4084 4100
City: Kolkata
State: West Bengal 700020
Country: India
Website: https://www.macocorporation.com