Prestigious web3 tech fellowship announces expansion to multiple blockchains for their decentralized tech courses.

SAN FRANCISCO - Refraction Labs, a renowned leader in the field of decentralized computing and blockchain technology education, continues to make significant strides in placing graduates at the forefront of the web3 revolution. With a strong focus on practical skills and real-world applications, Refraction Labs has successfully connected its graduates with various decentralized autonomous organizations (DAOs), web3 startups, protocols, and industry giants such as Coinbase, Google Cloud, AWS, and Azure.
Refraction Labs' commitment to equipping learners with the knowledge and expertise to excel in the rapidly evolving blockchain industry has resulted in an impressive track record of successful placements. Graduates of Refraction Labs' flagship course, "Fundamentals of Decentralized Computation," have gained invaluable opportunities to contribute to the growth and development of the decentralized ecosystem.
In addition to these remarkable achievements, Refraction Labs is proud to announce its plans to expand its course offerings onto multiple Ethereum Layer 2 networks and additional blockchains such as Polygon, Sui, Avalanche, and Solana. By extending its curriculum to these platforms, Refraction Labs aims to empower learners to explore and leverage the unique capabilities and opportunities presented by these emerging technologies.
"Fundamentals of Decentralized Computation" serves as a cornerstone of Refraction Labs' educational resources, providing learners with a comprehensive understanding of blockchain technology and decentralized computation. Developed in collaboration with experts from esteemed organizations, such as the Ethereum Foundation, Coinbase, Avalanche, and Uniswap, this course offers unparalleled insights into the intricacies of decentralized systems.

The course curriculum encompasses 107 meticulously designed video lessons and 52 interactive exercises, all hosted on Refraction Labs' custom testing platform, which enhances the learning experience. Through this comprehensive exploration, students gain expertise in various aspects of blockchain technology, including a deep dive into Ethereum's architecture, programming in Solidity, and a broader understanding of the web3 ecosystem. Armed with this knowledge, graduates are primed to excel in the decentralized computing landscape.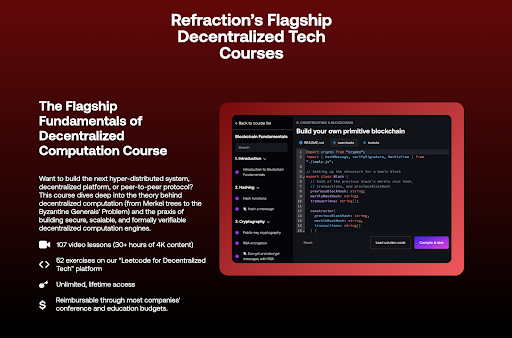 "We are thrilled to witness the impactful placements our graduates have secured within DAOs, web3 startups, and major industry players. These achievements underscore our commitment to providing practical skills that empower individuals to thrive in the decentralized economy," said Refraction Labs' Head of Curriculum. "In line with our dedication to staying at the forefront of emerging technologies, we are excited to expand our course offerings to additional blockchains, allowing learners to gain firsthand experience in cutting edge of the web3 ecosystem."
Enrollment for "Fundamentals of Decentralized Computation" and other courses offered by Refraction Labs can be accessed through the official website.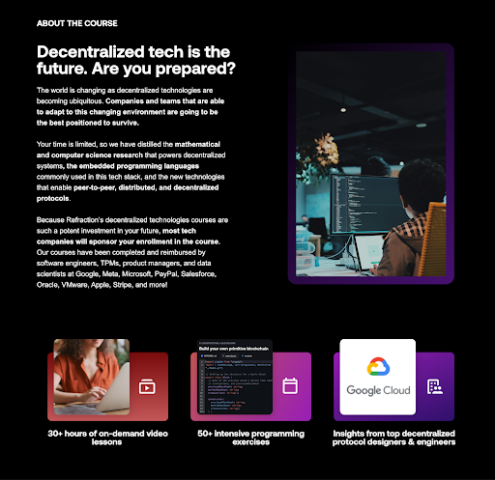 About Refraction Labs:
Refraction Labs is a leading provider of comprehensive educational resources in the field of decentralized computing and blockchain technology. With a team of seasoned experts and a commitment to delivering cutting-edge content, Refraction Labs aims to empower individuals and organizations to embrace the potential of decentralized systems and drive innovation in the digital age.
Media Contact
Company Name: Refraction Labs
Contact Person: Rachel Chen
Email: Send Email
Country: United States
Website: http://www.refractionlabs.com/