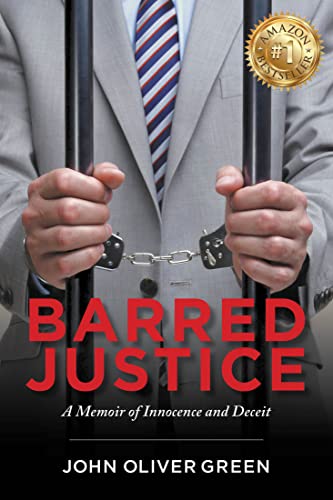 "Barred Justice: A Memoir of Innocence and Deceit" by John Oliver Green has been released worldwide. This 460-page memoir is the author's firsthand account of being accused, convicted, and incarcerated for a crime he didn't commit. While working as a tax attorney in the 1980s, Green was sent to investigate a client's plane crash, only to discover that the client had been smuggling drugs. Encountering an IRS agent with a personal grudge and a barrage of false testimony, the young attorney found himself in a vicious legal battle with the odds stacked against him. To make matters even worse, he also faces threats from a Columbian cartel.
Naively believing that justice would be on his side, the author declined lesser charges and went to federal trial, where he was subsequently convicted and imprisoned. Now many years later, with new evidence of misconduct and the entire experience well behind him, Green has written this intense, compelling memoir to not only set the record straight, but to warn readers about nefarious practices, vindictive government agents, and how the justice system can be misused as well.
Written with clarity, conviction, and a knack for descriptive action, Green presents his shocking story in a way that reads more like a legal thriller than a memoir. With photos, document scans, meticulously detailed accounts across multiple stages of life, and unflinching candor about his own mistakes along the way, the author draws the audience into a decades-long rollercoaster of secrecy, scandal, and ultimately, redemption.
This incredible story feels like a work of exciting fiction, but serves as a real-life reminder of what can happen behind the scenes in the criminal justice system – and how it can forever alter the course of an innocent man's life.
Barred Justice (ISBN: 9798985533989) can be purchased through retailers worldwide, including Barnes and Noble and Amazon. The paperback retails for $17.99, the hardcover retails for $29.99, and the ebook retails for $2.99. Wholesale orders are available through Ingram. Review copies and interviews are available upon request.
Learn more at https://www.johnolivergreen.com
From the back cover:
A disturbingly firsthand account of what it's like to be falsely accused, convicted, and incarcerated for a crime you didn't commit. In 1982, young tax attorney John Green receives word that a client's plane has just crashed. The client's wife asks John to fly to Mississippi, find her husband's plane, and see if he is still alive. Arriving at the crash site, John discovers that his client has died while smuggling drugs from Columbia.
Soon John finds himself caught between a vengeful IRS agent with a personal grudge and a drug cartel that wants him dead. With his life in danger, he flees from Oklahoma to Texas where he is indicted and arrested. Without bail, he is shuffled from jail to jail and denied medical treatment while agents try to coerce a confession. John declines a misdemeanor plea, believing that justice will prevail if he goes to trial.
Finalist, Writers' League of Texas Manuscript Contest
"So dramatic with all the fast-paced action, this reads more like fiction.The description of the wreck is riveting, and when the author reveals his involvement in the plot, my ears really perk up. It grabs us by the throat.
WOW. What a story-and you have the ability to tell it."
"I always considered this the best and most interesting case of my thirty-one year career with characters the best fiction writers could not create."
- FBI Special Agent Avery Rollins, Jr. (Retired)
About the author:

John Oliver Green was born and raised in Oklahoma. He attended the University of Oklahoma and Oklahoma City University and holds degrees in accounting and law. He served as a Lieutenant with the 25th Infantry in Vietnam. He later worked as an IRS Special Agent in their Criminal Investigation Division before leaving to practice law.Now a widower, John lives in Austin, Texas, where he enjoys gardening and spending time with his labradoodle, Maddie. He remains active in church activities and community volunteer work. Barred Justice is his first book.
About NH book publisher Seacoast Press:
NH book publisher Seacoast Press provides authors with traditional-quality bookpublishing services while allowing authors to retain publishing rights and 100% royalties.Seacoast Press' wide variety of publishing services includes book design; editorial;printing; distribution; publicity; and marketing. Seacoast Press books are available throughretailers and booksellers worldwide. All Seacoast Press books can be purchased wholesalethrough Ingram.
To learn more about Seacoast Press, the premier book publisher in NH,visit http://www.seacoastpress.com/.
Media Contact
Company Name: SeacoastPress.com
Contact Person: Jen McNabney
Email: Send Email
Phone: 603-546-2812
Address:1 New Hampshire Ave Suite 125
City: Portsmouth
State: New Hampshire
Country: United States
Website: https://www.seacoastpress.com/