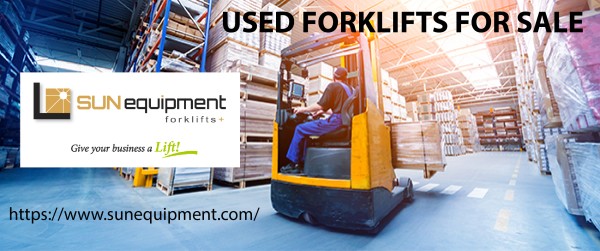 Sun Equipment Inc., a renowned name in the material handling equipment industry, is thrilled to present its exclusive collection of used forklifts for sale. With a mission to empower businesses with cost-effective and efficient solutions, Sun Equipment Inc. aims to be the go-to destination for companies seeking reliable and affordable forklift options.
Unlock the Benefits of Used Forklifts
At Sun Equipment, we understand the significance of robust material handling equipment in optimizing warehouse operations and boosting productivity. Our wide range of used forklifts, sourced from trusted brands, enables businesses to access various electric, gas, diesel, and propane-powered forklifts tailored to meet different industrial demands.
Why Choose Sun Equipment's Used Forklifts?
Quality You Can Trust: Each used forklift in our inventory undergoes rigorous inspection and refurbishment, guaranteeing performance and reliability on par with new models.
Cost-Effective Solutions: Sun Equipment offers budget-friendly options, allowing businesses to save more money than purchasing new forklifts without compromising quality.
Expert Guidance: Our knowledgeable and experienced team assists customers in selecting the ideal forklift that aligns with their specific requirements, ensuring maximum efficiency.
Customization Possibilities: Sun Equipment provides customization services to tailor the forklifts to suit unique operational needs, ensuring seamless integration into existing workflows.
Unmatched Customer Support: We are committed to delivering unparalleled after-sales support, including maintenance services, spare parts availability, and technical assistance.
Fast Delivery:  Sun Equipment Used Forklifts provides significantly fast delivery of their Used Forklifts to their customer within 10 days, which is relatively fast compared to new forklift delivery, which takes up to 6-12 months before delivery.

"At Sun Equipment, we are delighted to showcase our exceptional range of used forklifts for sale. We believe that businesses should have access to high-quality material handling solutions without stretching their budgets. Our commitment to reliability, personalized service, and customer satisfaction sets us apart as a trusted partner for companies looking to streamline their operations." - Mike Hoskins, CEO of Sun Equipment.
About Sun Equipment
Sun Equipment has established itself as a leading provider of material handling equipment, offering new and used forklift services to businesses with a focus on delivering value and exceeding customer expectations.
For more information about our selection of used forklifts or to explore our complete range of material handling solutions, please visit https://www.sunequipment.com/ 
Media Contact
Company Name: Sun Equipment Inc.
Contact Person: Mike Hoskins
Email: Send Email
Phone: (260) 616-0651
Address:3517 Cantwell Blvd
City: Fort Wayne
State: IN 46814
Country: United States
Website: https://www.sunequipment.com/