Steinmetz Pictures, a new indie film production studio, starts off their filmmaking debut with "Carl & Belle''. A short film that recreates the magic and charm of classic animated features and short films, with a bit of modern humor. The short is directed by co-founder Jeremy Hollenbeck known for Allegiant Productions's "Father" and is written and produced by co-founder Za'kei Allen.
Carl & Belle is about Carl, an old mushroom person, who was heading home when he saw a newly born mushroom named Belle. Although he didn't want anything to do with her, Belle tried to follow him anyway and he reluctantly felt obligated to show her the world, and hopefully find her parents.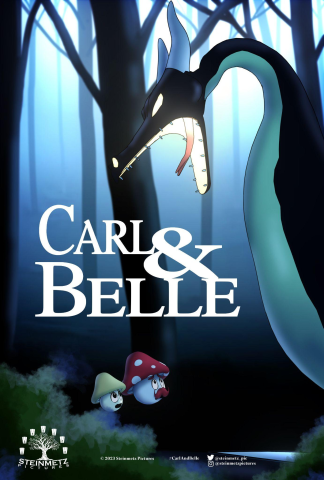 Carl & Belle stars Mike De La Morte as Carl and Karissa Valentine as Belle. It also features the voices of Zaheen Fatima, Za'kei Allen, Evan Shaff, and Trishyonna Williams. All the animation was done using Blender, an impressive and free 3D modeling software with 2D animation capabilities. Each background was painted as they were in classic animated films, and were carefully stylized to make them fit with the eccentric world of the short film.
"Carl & Belle'' aims to recreate the feel and look of classic animated films like Disney's "Cinderella", "Snow White", "Sleeping Beauty, Steamboat Willie", and "Looney Tunes" and "Tom & Jerry" from Warner Bros. The creators of this film did a lot of studying to get just the right look, even down to minute details such as the film grain and film damage. The film is said to be dedicated to Za'kei Allen's late friend – and the studio's namesake – C. Tucker Steinmetz, who sadly passed away in 2022.
Steinmetz Pictures hopes you enjoy the story of "Carl & Belle" on its release and they hope they'll be able to make you relive the magic and charm of the classic animation style.
For further more details please visit our website here: https://steinmetzpictures.com.
Media Contact
Company Name: Steinmetz Pictures
Contact Person: Za'kei Allen, Co-Founder
Email: Send Email
Country: United States
Website: https://steinmetzpictures.com