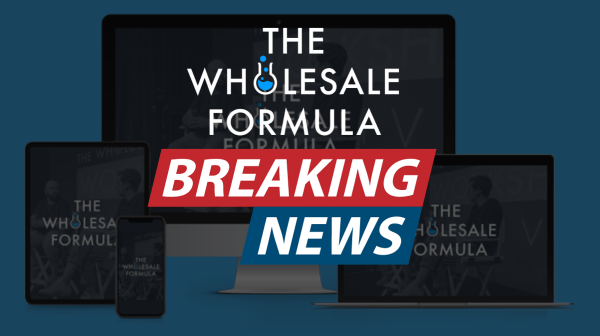 September 18, 2023 - In an era where e-commerce reigns supreme, a new course is making waves, poised to transform the lives of countless aspiring entrepreneurs. The highly anticipated program, The Wholesale Formula, is set to launch on Tuesday, September 19, and will run until Thursday, September 28. However, it may close sooner if enrollment fills to capacity, offering a limited-time window for eager Amazon sellers to get onboard.
The Wholesale Formula is an award-winning mentorship endeavor that's been specially crafted for aspiring Amazon sellers. Designed with the intent to facilitate success in the bustling Amazon marketplace, the course provides a comprehensive framework that arms its Wholesale Formula students with the know-how, mentorship, actionable tasks, skills, and software required to dominate the e-commerce sphere in a short period of time.
At the heart of this groundbreaking program is the innovative concept of reverse sourcing wholesale. In contrast to traditional models, this approach advocates for bypassing distributors, enabling sellers to source products directly from manufacturers. Brands like Amazon, Costco, and Walmart have already adopted similar strategies, emphasizing the Wholesale Formula method's efficacy and profit potential.
While The Wholesale Formula course comes with a premium price tag of $2,997 or 4 installments of $874, the investment promises substantial returns. The curriculum, spearheaded by industry veterans Dan Meadors and Dylan Frost, is a testament to the duo's profound expertise and their commitment to empowering the next generation of Amazon sellers. Prospective enrollees should note the course's full enrollment fee offers an exclusive discount of $499, further enhancing its appeal.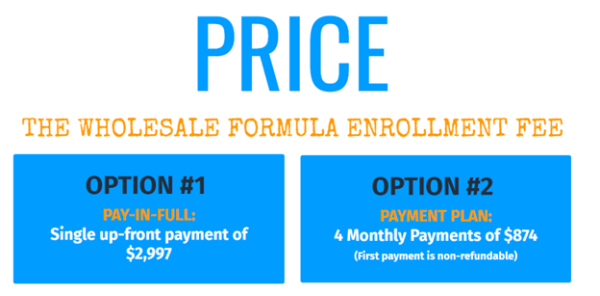 The most impressive testimony to The Wholesale Formula's effectiveness isn't its unique teaching methodology or its comprehensive curriculum; it's the life-altering transformations witnessed by thousands of students. Numerous reports and testimonials echo similar sentiments: the Wholesale Formula course has not only elevated their Amazon ventures but has revamped their financial trajectories, ushering in prosperity and success.
Interested parties looking to redefine their Amazon selling journey should act promptly. The Wholesale Formula enrollment period, while extensive, is finite, ensuring that the course maintains its intimate, hands-on approach. To secure a spot in this transformative program, visit the official Wholesale Formula website https://twf.rapidcrush.co/join-now/
In a marketplace as dynamic and challenging as Amazon, The Wholesale Formula emerges as a beacon of hope, a testament to what's achievable with the right guidance. The upcoming launch presents a golden opportunity for those who dare to dream big.
Under their guidance, students of The Wholesale Formula have generated over a billion dollars in sales—a testament to Meadors' and Frost's visionary approach and unwavering commitment to their students' growth.
As e-commerce continues to dictate the global marketplace, The Wholesale Formula is capturing attention with its comprehensive approach to Amazon selling. Here's a glimpse into what the program offers:
The Wholesale Formula course comprises six in-depth video training modules, designed to equip participants with tools to build, automate, and scale on Amazon.
A valued resource vault is at the disposal of students, hosting a curated list of tools and techniques pivotal for success in the digital marketplace.
The Wholesale Formula Students gain a competitive edge with the Exclusive Business Owner's Playbook—not just teaching the how, but emphasizing the 'why' of e-commerce decisions.
Dedicated coaching and support elevate the Wholesale Formula program's offerings. An insider Facebook group ensures continuous learning, with TWF coaches readily available to address queries.
Recognizing the importance of guidance in the initial phases, TWF group coaching sessions are integral to the program. 
The Wholesale Formula course underscores the significance of product selection with its innovative scouting techniques. Proprietary methods like Black Box Scouting and Amazon Filtering help in the rapid identification of profitable opportunities.
An expansive library of templates and resources further simplifies the journey for those starting out, offering everything from email templates to spreadsheets.
Acknowledging the dynamic nature of e-commerce, Wholesale Formula participants are promised a lifetime update guarantee.

Additionally, early birds enrolling in the program stand to gain bonuses worth over $24,000—a testament to The Wholesale Formula's commitment to student success.
A noteworthy component of The Wholesale Formula's success stems from the expertise and experience of its creators, Dan Meadors and Dylan Frost. Their journey is both inspirational and instructional for budding e-commerce enthusiasts.

Dan Meadors grew up in Southeast Kentucky, a region often associated with economic hardships. Despite challenges, including a significant career setback in 2011, Meadors turned adversity into opportunity. He began his e-commerce journey with a humble investment of $600, initially dabbling in the Amazon Arbitrage model. However, not finding the success he desired with traditional wholesale, he innovatively shifted to the Reverse Sourcing Wholesale model. His perseverance and adaptability are central to the teachings of The Wholesale Formula.
Dylan Frost, equally instrumental to the course, partnered with Meadors after recognizing the potential of the Reverse Sourcing Wholesale business model. Together, they've fine-tuned a strategy that not only worked for them but has since benefited thousands of students.
Their combined success—culminating in over $36 million in sales on Amazon by leveraging wholesale distributors—speaks volumes about their mastery. Beyond the numbers, their real-world experience, struggles, and eventual success make the course content relatable and effective. Students not only learn the techniques but also absorb the mindset required for lasting e-commerce success.
In the ever-evolving world of e-commerce, The Wholesale Formula emerges as a beacon of transformative potential for aspiring Amazon sellers. Reports indicate that the program has been instrumental in reshaping the careers and financial trajectories of thousands of its students. Such widespread success is not merely attributable to the Wholesale Formula course content but to the real-world experiences and innovative strategies imparted by its founders, Dan Meadors and Dylan Frost.
Industry observers and participants alike are keenly watching the program's upcoming launch, anticipating another surge of entrepreneurs ready to make their mark in the Amazon marketplace. With The Wholesale Formula's proven track record, its next cohort of students stands on the precipice of potential life-changing success. The e-commerce landscape awaits the next wave of empowered sellers, equipped with the tools and knowledge this program promises to deliver.
Media Contact
Company Name: The Wholesale Formula
Contact Person: Chad Greenwood
Email: Send Email
Country: United States
Website: www.thewholesaleformula.com