SAN FRANCISCO, July 25, 2023 (GLOBE NEWSWIRE) -- Javelin Strategy & Research, a leading provider of strategic insights for the digital financial world, today released its 2023 Know Your Customer Solution Scorecard. Know Your Customer (KYC) protocols serve as the foundation for robust identity verification and play a crucial role in safeguarding against identity fraud and financial crimes such as money laundering and terrorist financing. This comprehensive report evaluates and ranks 16 different KYC solution vendors catering to the U.S. market, with a focus on financial institutions.

In this scorecard, Javelin uncovers that dark web scanning adoption is shockingly low, with only one-quarter of evaluated vendors offering this service. As vendors seek to increase confidence in a returned risk score/decision to FIs inquiring about a consumer, these services are a must have.
"Adoption of such a valuable service as dark web scanning should be significantly higher than 25%," said Suzanne Sando, senior analyst of Fraud & Security practice at Javelin and author of the scorecard. "We urge vendors that do not currently employ dark web scanning to immediately integrate dark web scanning into their existing services. This kind of information is extremely helpful to FIs and consumers alike in better assessing the risks of opening an account and applying fraud detection tools to attempt to prevent identity theft and identity fraud, or financial crimes and exploitation on an even larger scale."
To evaluate and rank the vendors, Javelin analysts developed weighted determinants that correspond across the three main categories of Capabilities, Functionality, and Use Cases. Capabilities includes a solution's ability to perform tasks and utilize resources; Functionality includes a solutions user-facing controls, interface and output; and Use Cases includes a solutions applicability to regulatory compliance initiatives and specific KYC-related missions.
We are excited to unveil the 2023 KYC Solution Scorecard, which presents a comprehensive analysis of the leading KYC vendors in the U.S. market. LexisNexis Risk Solutions rose to the top as the Best In Class KYC Vendor, with Equifax Identity & Fraud Services, Alloy and Mitek following as Leaders in the space. The findings from this full report empower financial institutions to make informed decisions in implementing effective KYC solutions that strengthen their defenses against identity fraud and mitigate financial risks.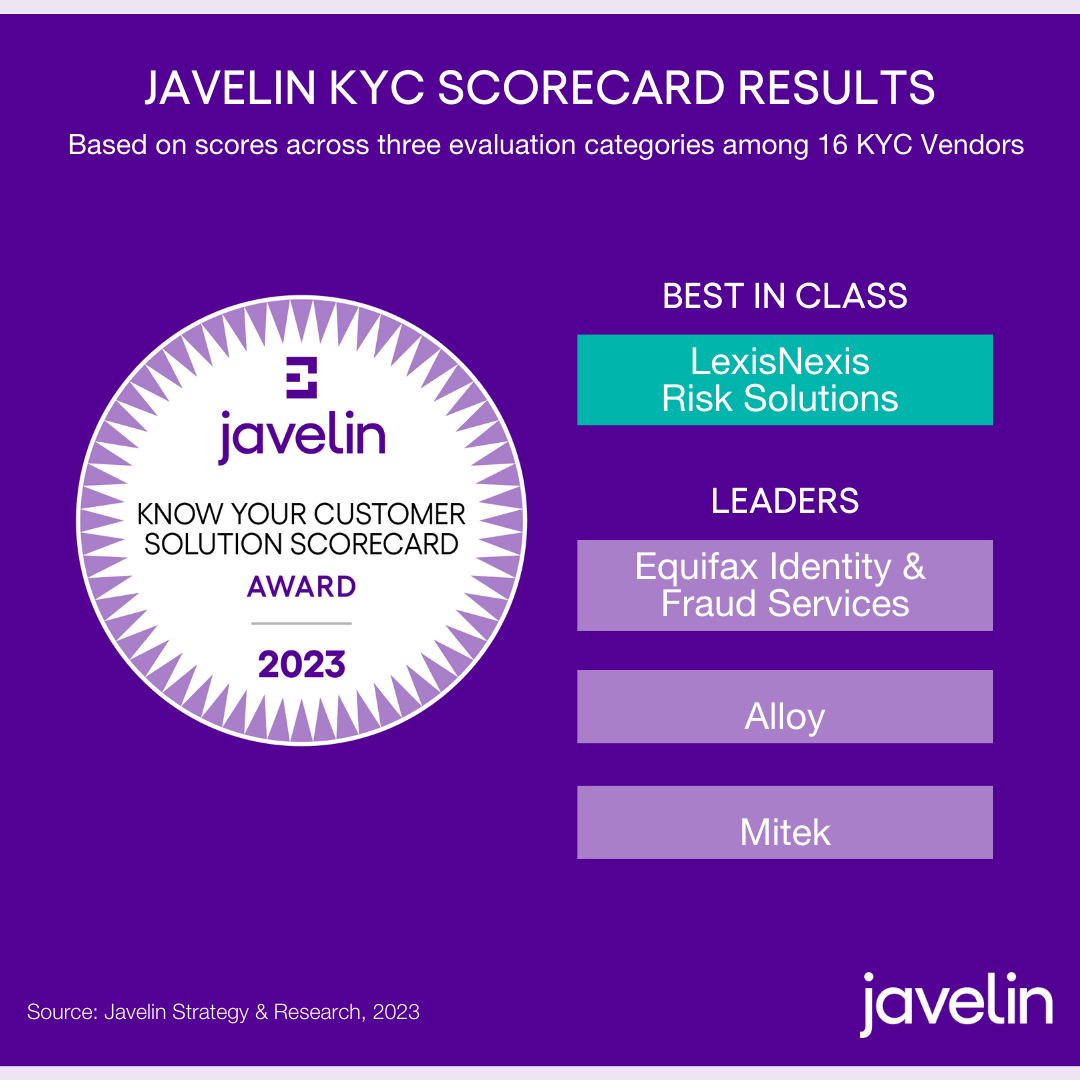 For more information on the full report, visit javelinstrategy.com.
About Javelin Strategy & Research
Javelin Strategy & Research, part of the Escalent family, helps its clients make informed decisions in a digital financial world. It provides strategic insights to financial institutions including banks, credit unions, brokerages and insurers, as well as payments companies, technology providers, fintechs and government agencies. Javelin's independent insights result from a rigorous research process that assesses consumers, businesses, providers, and the transactions ecosystem. It conducts in-depth primary research studies to pinpoint dynamic risks and opportunities in digital banking, payments, fraud & security, lending, and wealth management. Learn more at javelinstrategy.com.
A photo accompanying this announcement is available at https://www.globenewswire.com/NewsRoom/AttachmentNg/d893d7a6-160e-48e9-9cd6-867109e34a09

Contact
Sarah Keller, 734.779.6847
sarah.keller@javelinstrategy.com