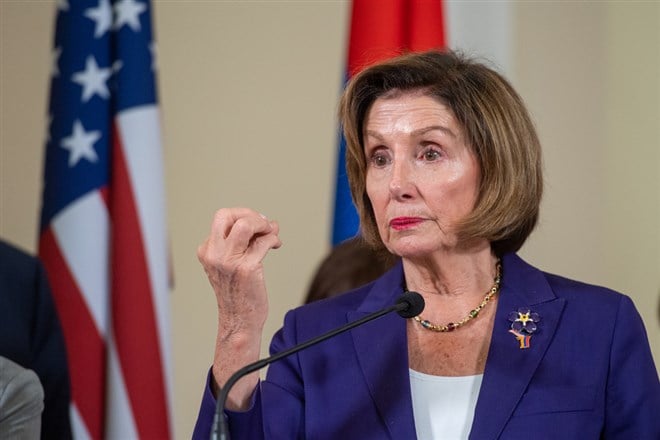 Using a publicly available periodic transaction report, investors can look at some of the stocks former house speaker and democrat leader Nancy Pelosi speculated on using options.
Nancy Pelosi allegedly has a net worth of around $120 million, while her husband, Paul Pelosi, operates a real estate and venture capital firm in San Francisco. Due to their wealth and prominence, the pair are figures to watch for ordinary investors to get ideas from.
So here are some stocks Nancy Pelosi has been feeling bullish about recently.
Alphabet Inc
Alphabet Inc (NASDAQ: GOOG) was one of Pelosi's top purchases in December 2021. Between $500,000 and $1,000,000 worth of call options in the company were transacted during this time. Paul Pelosi also made a huge windfall by selling Alphabet stock which came in the form of a $5 million profit in July 2021.
The question is whether ordinary investors should get on board the stock in today's current environment. There is a strong buy case for Alphabet shares, given that the MarketBeat consensus price target currently shows a 61.8% upside. Insiders acquired $37 million worth of shares in the company last quarter, and its earnings per share (EPS) is expected to rise 8.12%.
Micron Technology
Micron Technology Inc (NASDAQ: MU) was another significant Pelosi buy. She bought between $250,000 and $500,000 worth of call options around the same time as the Alphabet purchase. Micron Technology seems to be one of the pair's targets, as Paul Pelosi sold call options on the stock in October last year for around a $1 million loss.
Micron Tech has an upside of 19.88% at the time of writing, and it's expected to exceed breakeven profitability. Its EPS is presently negative at $2.24, but it is poised to grow to a positive $1.20 per share soon. My colleague Jea wrote in December last year that Micron expects a recovery in this chip market. Supporting this notion is that the chip inventories of Micron customers could start to run low after the explosion of demand ended post-lockdown, thus leading to higher sales in fiscal 2023.
Roblox Corporation
Roblox Corporation (NYSE: RBLX) was one of Pelosi's smaller acquisitions in the same month as others on this list. She bought between $250,000 and $500,000 worth of calls. Roblox is one of the worst performers on this list when looking at the returns to shareholders. The Roblox stock price is down 64.05% over the past year and has fallen 16.66% over the past six months.
Several factors are working against Roblox in the short term. First, it's trading close to its projected price target of $35.41, thus leaving a limited upside potential of 10.6%. Another thing to remember is that its EPS is set to move further into the negative territory, from ($1.58) to ($1.92). Insiders have also been selling shares, and it has a high short-interest ratio of 7.23%.
Salesforce
Salesforce (NYSE: CRM) has historically been one of Pelosi's key purchases. She bought 100 call options for the stock the same time the others were made for an estimated value of between $500,000 and $1,000,000. She then bought 30 call options for between $100,000 and $250,000.
My colleague Kate wrote this week that shares of the data aggregator could be on the rise in the short term. The company's stock has made higher highs in the last three trading sessions, and momentum has returned firmly to the upside on momentum oscillators without dipping into overbought territory.
Walt Disney Company
Finally, there's the case of Walt Disney (NYSE: DIS). Pelosi opened a long position on the smaller side compared to the rest, with a value of $100,000 to $250,000.
For investors eying Disney up as a potential holding, there are some reasons to feel positive about it. For one, Wall Street considers it a buy and undervalued. The company's MarketBeat consensus price target stands at 34.9%.
The MarketBeat team has also praised the company's fundamentals in the recent past, for reasons which have included the strength of its dividend and the profitability of its theme park segments.