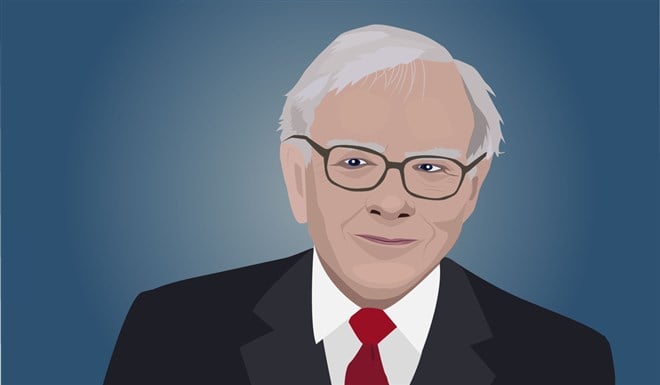 Warren Buffett is one of the most successful investors in the world and has an estimated net worth of over $100 billion at the time of writing.
His investment company Berkshire Hathaway (NYSE: BRK.B) is also wildly successful. Its class B shares are up 48.95% over the past five years and an astonishing 1,223.50% since its inception in May 1996.
Due to his success in stock picking, Buffett also popularized the value investing methodology that legendary investor Benjamin Graham first pioneered. 
Value stocks will continue to dominate growth stocks this year as investors park their cash into mature companies with less volatile earnings and more stable share prices.
Let's analyze Buffett's top three holdings of Berkshire Hathaway to uncover stocks investors should consider adding to their portfolios.
Apple
Apple Inc. (NASDAQ: APPL) makes up an overwhelming majority (41.76%) of Berkshire Hathaway's portfolio. It owns 894.80 million Apple shares for a market value of $123.66 billion at the time of writing. 
Understanding why Buffett has chosen to have such a strong exposure to Apple comes down to his investing methodology.
One of the keys to Buffett's success is to buy companies with long-term consistent earnings, and Apple has this in spades. The company's net earnings per share (EPS) has grown from 37 cents in December 2009 to $6.11 in September last year.
Part of what drives Apple's consistent earnings growth can be chalked up to having created a brand that commands a premium price tag. Buffet describes competitive advantages such as being part of a broader economic moat that surrounds the businesses he invests in.
A company's economic moat correlates with the return on equity (ROE) ratio, which broadly measures how efficiently a business transforms shareholder assets into earnings. All else being equal, the stronger a company's moat, the greater the ROE and vice versa. This is due to the business staving off competitors encroaching into their market share via its competitive advantages and thus maintaining earnings growth.
Apple's ROE is exceptional at 160.90%. The ROE of its industry is paltry by comparison at only 15.35%. An ROE of 15% to 20% is considered desirable for Apple's sector, which helps to put the strength of its brand into perspective.
Bank of America
Bank of America Corp. (NYSE: BAC) is the second-largest holding in Berkshire Hathaway's portfolio (10.30%). The fund owns 1.01 billion of the bank's shares for a total value of $30.51 billion.
Buffett increased his position in BoA substantially in the second quarter of 2020 through an additional $2.1 billion installment. Around this time, the coronavirus pandemic was booming, with hundreds of thousands of infections recorded around the country and cases growing month over month.
Living up to his moniker as the Oracle of Omaha, Buffett was again able to make a prophetic judgment call as the bank's share is now up over 50% from 2020.
Perhaps Buffett could foresee that the Fed would intervene in December by printing an ungodly amount of money and using quantitative easing (QE) to keep the bull market from collapsing. This would, of course, lead the Fed to raise interest rates later down the road, which would benefit BoA immensely.
Although the bank's key profitability ratio, the net interest margin (NIM), has contracted due to rising rates (2.36%), this is largely in line with BoA's peers.
In theory, a few things should happen when the NIM decreases. Namely, net interest income goes down along with the demand for loans while savings accounts increase. However, these effects have largely been offset by strong consumer spending reported in Q3, thus keeping earnings rolling in despite making less per dollar revenue on the sale of lending products.
In the fourth quarter, things improved again, with EPS growing from $0.77 to $0.85, which was 10.87% above analyst expectations. Revenue also grew from $24.17 billion to $24.53 billion. 
These results show why it can pay off when people follow Buffett's investments, even when they only seem to make sense if you can see them from his viewpoint, which is usually seven moves ahead of us.
Chevron
When one factors in Buffett's position in Occidental Petroleum Corp. (NYSE: OXY), his portfolio has an exposure of 12% to the crude oil exploration and production industries and is worth around $40 billion.
By some analysts' estimations, this portfolio allocation could pay off, with
higher crude oil prices
due on the horizon this year. China's reopening and upstream constrictions on Russia's oil supply to the European Union are leading the charge for the commodity price of oil.
Brent crude is expected to peak this year, which could play into the hands of Buffett and bullish energy investors.
In
addition
,
Buffett
sees
oil
companies
as
good
investments
because
they
offer
attractive
dividend
yields
.
Many
oil
companies
have
high
dividend
yields
and
 offer
 attractive
returns
to
investors
.
Chevron's yield stands at 3.30%, which is around twice as strong as companies in the S&P 500. 
And although Buffett owns around 20.9% of Occidental's outstanding shares, which reflects a significant investment and perhaps even a takeover opportunity, he is also cognizant of the world's shift to renewables and its ongoing decarbonization process. Buffet's oil companies are also in the process of moving to cleaner sources of energy, including through carbon capture programs, thus putting Buffett behind the ball of where the energy industry will be headed to in the future as well.