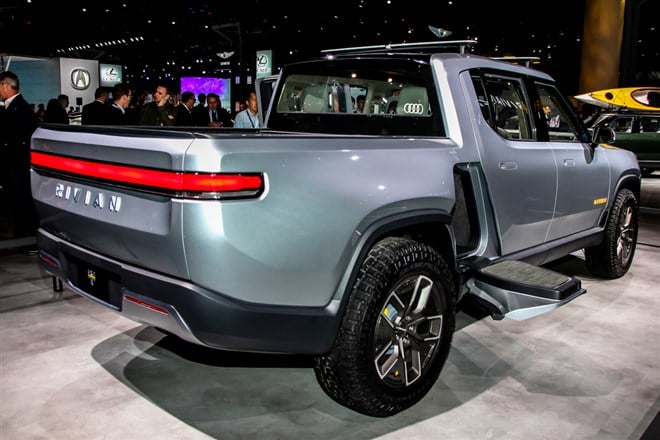 Electric vehicle (EV) maker Rivian Automotive Inc. (NASDAQ: RIVN) is racing to ramp up production before the cash runs out. It produces and delivers EVs. It needs to bolster its production since low production on a high line results in more significant losses. The more it can produce to meet the capacity of the production line, the quicker costs come down per unit.
Rising inflation on raw materials and continuing supply chain issues have jacked up input costs for Rivian. Currently, Rivian is spending $220,000 per unit while selling it for an average of $81,000 and taking a loss of (-$139,000) per truck. Its automotive gross margins are at (-171%) compared to Tesla Inc.'s (NASDAQ: TSLA) gross margins at 26.3%.
Tesla's Price Cuts
Rivian faces more cost issues competing with Tesla price cuts of up to (-24%) on its Model Y and Model 3 EVs. It has been causing other EV makers to follow suit with their price cuts. To trim overhead costs, Rivian announced it was laying off (-6%) of its workforce of 14,000, or 840 workers, on Feb. 1, 2023. With a 2022 annual production target of 25,000 vehicles, Rivian may be far behind Tesla, but it's still way ahead of other EV startups like Lucid Group Inc. (NASDAQ: LCID) and Fisker Inc. (NYSE: FSR).
Ford Cuts Stake in Rivian
Ford Motor Co. (NYSE: F) revealed it had sold most of its Rivian stock down to 10.5 million or a 1.15% stake. This is down from 86.9 million shares and a 9.49% stake it had in Rivian last year. Amazon.com, Inc. (NASDAQ: AMZN) retains an 18% stake in Rivian. It recorded a mark-to-market net loss of ($7.4 billion) in 2022.
Struggling Consumer Demand
Rivian's R1T base-model dual engine truck is priced at $73,000 before incentives to over $100,000 for a fully loaded, quad motor Max pack truck. The Company still has 114,000 buyers on the wait list for its R1 electric truck. The long waitlist suggests that demand has stayed strong despite rising interest rates softening consumer discretionary spending.
Rivian R1T Electric Truck
The Rivian R1T EV truck has all-wheel drive. The base model has a dual motor which is a motor on each axle. The quad-motor version has a motor on each wheel. Each motor is controlled separately, allowing the truck to maximize acceleration in slippery or high-speed settings.
The R1T can transfer power to any wheel with traction while removing it from the slipping tires, eliminating the need for locking differentials. Its standard dual motor model has over 600 horsepower and over 600lb-ft of torque. Its quad-motor truck has 845 horsepower with 908lb-ft of torque. An R1T truck with a Large pack can hit 60 miles per hour in just 3 seconds.
Battery
It has three battery options. The 105-kWh Standard pack is available just for dual motor trucks. The 135-kWh Large and 180-kWh Max battery packs are available for two or quad-motor setups. The Ri1 base model with the Standard pack dual motor can run 260 miles on a single charge.
The Large pack dual motor truck gets 320 miles. The quad motor trucks get 314 miles. Max pack trucks will reach 400 miles on a single chart regardless of the motor type.
Space
The cargo space is ample considering the 11.1 cubic foot front trunk since it has no conventional combustion engine. It's large enough to store golf clubs, small luggage, or camping gear. It also has a unique gear tunnel and storage space between the back wheel and back seats, behind the cab, and ahead of the truck bed.
Mercedes-Benz EV Partnership Put on Hold
On Dec. 12, 2022, Rivian put its partnership with Mercedes-Benz to collaborate on the creation of large electric vans on hold. The companies had put together a memorandum of understanding (MOU) a few months earlier to produce two large van models in a joint venture based in Europe.
Rivian stated the reason was to focus better on existing consumer and commercial business opportunities. Preservation of capital was the primary reason, as a partnership meant investing in a new manufacturing plant in Central or Eastern Europe.
However, the production of a Rivian Mercedes electric van wasn't even expected to commence for a couple more years.
Rivian Q3 2022 Earning Results
On Nov. 9, 2022, Rivian released its third-quarter 2022 result. The Company reported a non-GAAP earnings-per-share (EPS) loss of ($1.57), beating analyst expectations by $0.26. Its GAAP EPS was (-$1.88), a $0.06 beat. Rivian lost ($1.77 billion) in the quarter compared to $776 million in the year-ago period.
The main reason was increased production costs and overall inventory amid production ramps. This is expected to continue as the Company scales up production.
Revenues Climbing with Vehicle Deliveries
Revenues rose to $536 million, missing estimates by $18.06 million. The vehicle deliveries drove revenues in the quarter. The Company produced 7.363 vehicles and delivered 6,584 vehicles.
The Company had a net of 114,000 R1 preorders in the US and Canada as of Nov. 7, 2022. Amazon's initial electric delivery van order is 100,000 vehicles.
The Company has produced over 15,000 vehicles since starting on Sept. 30, 2022. The Company reaffirmed its expectations for 25,000 total units in 2022.
It also reaffirmed annual guidance of $5.45 billion in adjusted EBITDA. Rivian lowered its capex to $1.75 billion due to its streamlined product roadmap and shifting specific capex to 2023. Rivian ended the quarter with nearly $14 billion in cash and cash equivalents.
Production Ramp-Up Means More Near-Term Losses
In its shareholder letter, management pointed out, "As we produce vehicles at low volumes on production lines designed for higher volumes, we have and will continue to experience negative gross profit related to labor, depreciation, and overhead costs. This dynamic will continue in the near term and is impacted by the ramp of our second production shift. Still, as we have already started to experience, we expect it will improve on a per-vehicle basis as production volumes ramp up faster than future labor and overhead costs increase." 
Daily Descending Triangle Pattern
The daily candlestick chart on RIVN shows a steep decline starting on Dec. 1, 2022, from $32.60, the start and the top of the triangle. The descending triangle is a bearish price pattern that depicts flat bottom support with sequentially lower highs on bounces.
The stock bottomed at $15.28 on Jan. 19, 2023, putting it at the bottom of the triangle. RIVN staged a rally up to the $21.44 weekly market structure (MSL) buy trigger at $21.44 but failed to stay above as the slope of the pullback shaped the falling trendline of the triangle.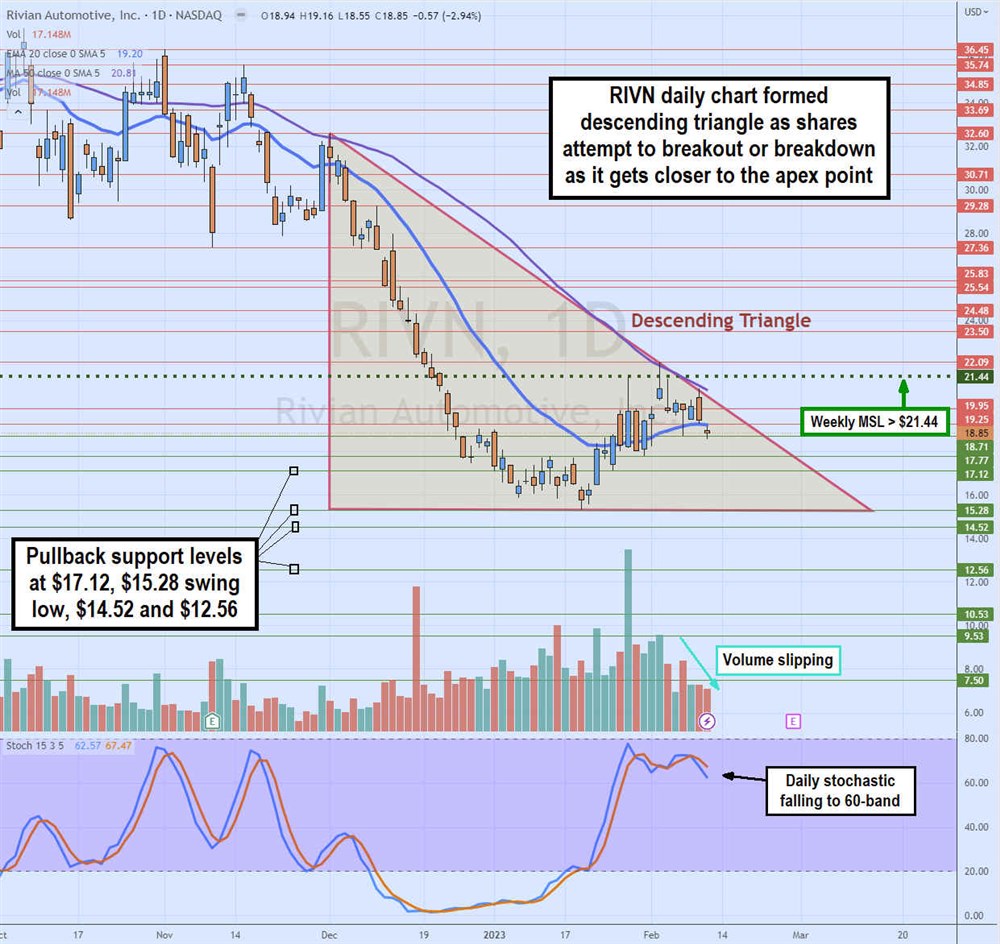 This pattern gets resolved when the stock breaks down through the bottom trendline or the falling trendline before reaching the apex. The daily stochastic peaked at the 80-band and is starting to fall again.
The daily 20-period exponential moving average may turn from support into resistance as it starts to fall at $19.20. The falling daily 50-period MA resistance continues to fall at $20.81. Pullback supports are at $17.12, $15.28 swing low, $14.52, and $12.56.