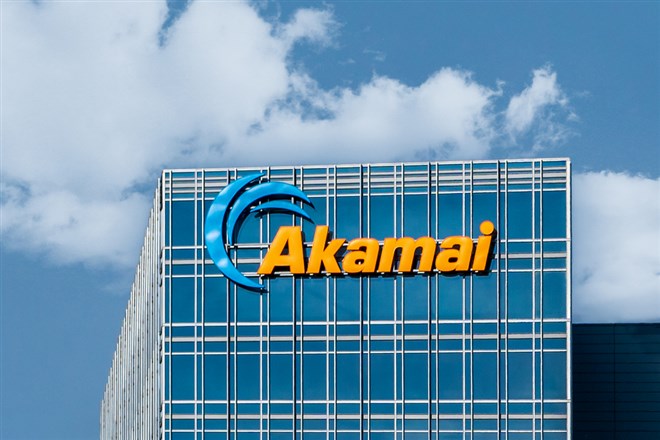 Cloud services and content delivery network (CDN) operator Akamai Technologies Inc. (NASDAQ: AKAM) saw its stock plunge over 10% on its Q4 2022 earnings release. The Company operates one of the world's largest CDNs. It delivers massive amounts of web content with speed, performance, and reliability for some of the world's most extensive streaming, technology, and media companies.
They are the CDN for streaming video giant Netflix Inc. (NASDAQ: NFLX), Apple Inc. (NASDAQ: AAPL), Microsoft Co. (NASDAQ: MSFT), International Business Machines Co. (NYSE: IBM), and Adobe Inc. (NASDAQ: ADBE). With over 300,000 servers spread over 135 countries, it's expanded its core services beyond just a CDN.
It provides various cloud services, including cybersecurity, web performance optimization, media delivery, and edge computing, enabling enterprises to operate applications with low latency due to the closer proximity to its end users.
Stable And Steady Growth
Akamai is different from the growth monster it was in the past. Revenues grew just 2.5% in its latest quarter. Its Compute division is the growth driver, as it saw a 61% rise in the quarter to $112 million, while its Security division saw a 10% rise to $405 million.
Compute division provides cloud services, including edge computing, serverless computing, and Kubernetes-as-a-service, enabling companies to manage their cloud applications at scale. These divisions make up 55% of total revenues when adjusted for FX. CDN revenues fell 12% to $415 million.
On Feb. 14, 2023, Akamai released its Q4 2022 earnings for December 2022. The Company reported non-GAAP earnings-per-share (EPS) profits of $1.37, beating consensus analyst estimates of  $1.26 by $0.11. Revenues grew 2.5% year-over-year (YoY) to $927.78 million, beating $904.8 million consensus analyst estimates. U.S. revenues rose 1% YoY to $483 million. International revenues rose 4$ to $445 million.
The Company generated $341 million in cash for the quarter, ending with $1.4 billion in cash and cash equivalents at year end.
Akamai CEO Dr. Tom Leighton commented, "We are pleased with our fourth quarter results which were driven by strong seasonal traffic, the continued success of our security solutions and the growth of our cloud computing solutions"
Akamai bought back 2.1 million shares in the quarter at an average price of $86.50 for $178 million today. For the full-year 2022, Akamai bought back 6.4 million shares at an average price of $94.96 per share. The total outstanding shares were 156 million shares at year's end.
Bearish Analysts Actions
While its Compute division is a growth driver, it also puts them in direct competition with some of the significant players in hyperscale cloud computing, including Amazon.com Inc. (NASDAQ: AMZN) AWS, Alphabet Inc. (NASDAQ: GOOGL) Google Cloud, and Microsoft Azure platforms.
Guggenheim initiated coverage of Akamai on Jan. 24, 2023, with a sell rating and a $75 price target. On Feb. 15, 2023, RBC downgraded shares of Akamai to Sector Perform from Outperform with a lowered price target of $85 from $100.
RBC analyst Rishi Jaluria sees the focus on growing Compute versus its Security as a dangerous move prompted by the acquisition of Linode. He commented, "We shift to the sidelines as we believe this move alters the risk-reward profile, and we would wait for evidence it can pay off before getting back involved," he continued that if Akamai became a real threat, then hyperscale cloud vendors can cut prices in a race to the bottom.
He also pointed out that Oracle Corp. (NASDAQ: ORCL) had attempted a similar strategy with its OCI bundling with minor success.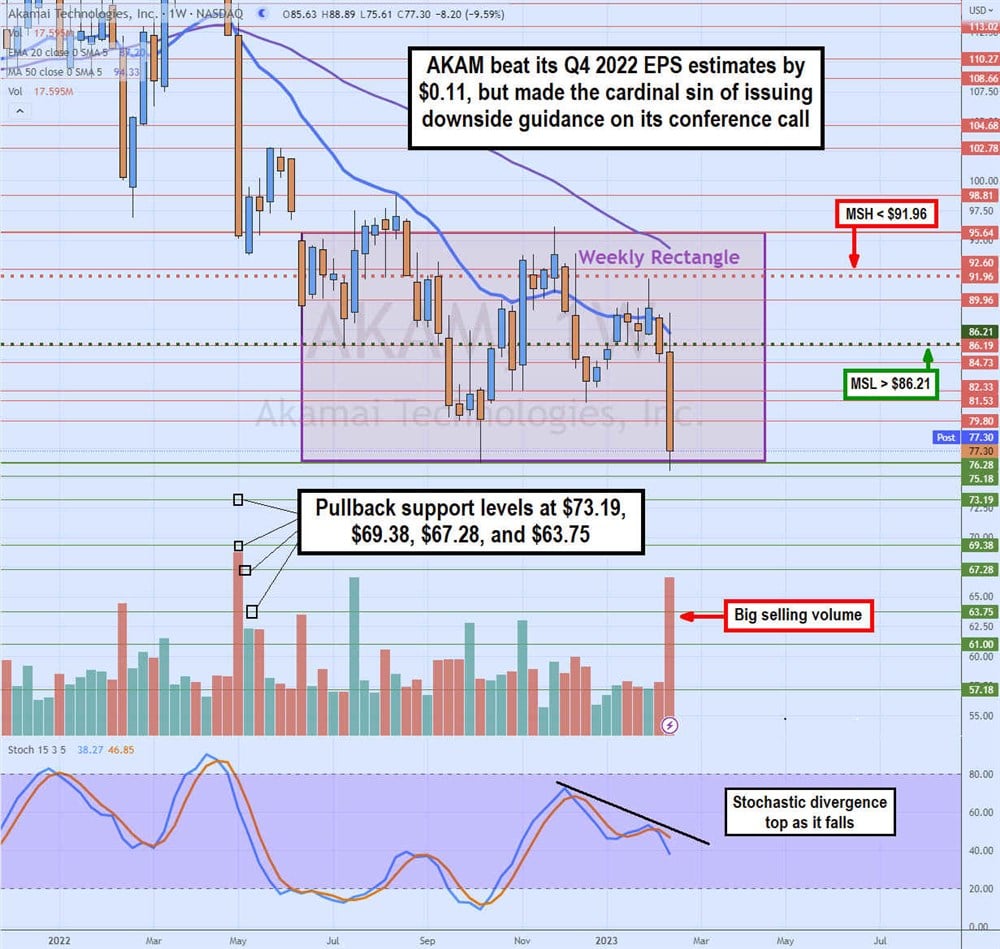 Weekly Rectangle Breakdown Attempt
AKAM has been in a weekly rectangle trading range since January 2022 as shares fell from the $95.64 upper trendline to a low of $76.28, forming the lower trendline in October 2022. Shares rebounded on the weekly market structure low (MSL) breakout through the $86.21 trigger to retest and fall from the upper trendline in November 2022 after triggering the weekly market structure high (MSH) breakdown under the $91.96 trigger.
Shares coiled off $81.53 to retrigger the MSL above $86.19 as they bounced and rejected near the $91.96 weekly MSL trigger heading into earnings. Shares collapsed over 10% on its Q4 2022 earnings to retest the lower triangle trendline at $76.28. The weekly stochastic made a lower crossover down.
The weekly 20-period exponential moving average (EMA) resistance falls at $87.20. Pullback support levels are at $73.19, $69.38, $67.28, and $63.75.