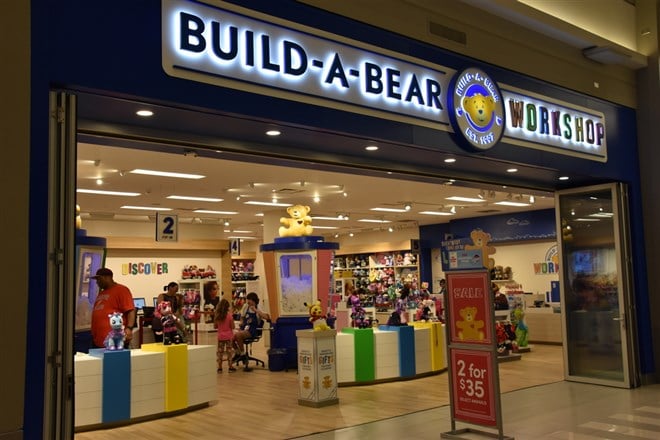 Build-A-Bear Workshop Inc. (NYSE: BBW) started as a niche retailer in shopping malls selling plush dolls that children could bring to life in the store by adding stuffing, a heart with a recordable message, along with other customizable options. The customer can name the doll, buy clothing and accessories and use it as an online avatar in the BBW metaverse. The personalization and customization was and is a crucial selling point making it more of an experience involving a child in virtually breathing life into a newly minted stuffed doll.
While its customers were predominantly kids, their customer base grew to include teenagers and adults, comprising 40% of sales. It's evolved its multichannel sales funnel.  
Expanding and Broadening the Appeal
While its stores mainly were in shopping malls, the company has closed down unproductive locations to bring nearly all its North American mall-based stores EBITDA positive. It's expanded locations outside the mall to reach a broader demographic, including in high-traffic locations inside cruise ships like Carnival Corp. & plc (NASDAQ: CCL) and theme parks including Six Flags Entertainment Corp. (NYSE: SIX). Now nearly 50% of their dolls are licensed characters from The Walt Disney Co. (NYSE: DIS), Warner Brothers Discovery, Inc. (NYSE: WBD), Paramount Global Inc. (NASDAQ: PARA), and other pop culture characters. Its dolls have even got collectors paying over $1,000 on eBay inc. (NASDAQ: EBAY) for vintage bears similar to Beanie Babies and Funko Inc. (NASDAQ: FNKO) pops.               
Creating  Generational Customers
BBW has survived the test of time, and the children who were stuffing bears for over two decades are now adults bringing their kids into stores to share the experience. The company has indirectly created generational customers as its products are proven to have a long runway, with some bears becoming expensive collectibles. Management deserves credit for turning the company around and having the foresight to broaden appeal and locations as the post-pandemic normalization has yet to kick in.
Q4 2022 Earnings Report
On March 9, 2022, BBW released its fiscal fourth-quarter 2022 results for December 2022. The company reported an earnings-per-share (EPS) profit of $1.39, excluding non-recurring items, versus a consensus analyst estimate of $1.12, a $0.27 beat. Revenues grew 5% to 7% year-over-year (YoY) to $491 million to $501 million beating $460.4 million consensus analyst estimates. The Board of Directors approved a special cash dividend of $1.50 per share paid on April 6, 2023, to shareholders of record as of March 23, 2023. The company closed the year with $42.2 million in cash and cash equivalents. The company added nine stores for 488 global locations, including 350 company-owned, 70 third-party retail, and international franchise models.
BBW CEO Sharon Price John commented, "We are pleased to have delivered another strong quarterly performance with double-digit growth in total revenues contributing to an increase of over 30% in pre-tax profit versus the prior year's fourth quarter. In fiscal 2022, we expanded total revenues and pre-tax income resulting in the highest annual profit in our company's 25-year history."
Full-Year 2023 Guidance
BBW provided fiscal full-year 2023 guidance for revenues to climb 5% to 7% with growth in all three operating segments. Pre-tax income is expected to grow 10% to 15% and surpass record highs. BBW expects to open 20 to 30 locations, with the majority planned in the second half of 2023, with capital expenditures expected between $15 million to $20 million. 
Weekly Bull Flag Breakout
The weekly candlestick chart on BBW illustrates a bull flag breakout. The bull flag commenced after peaking at $26.87 in December 2022 and forming the weekly market structure high (MSH) trigger on a breakdown through $22.73. Before the peak, BBW staged a 10-week rally off the $12.60 range on back-to-back green candlesticks setting up the flagpole.
The weekly bull flag was formed by making lower lows on pullbacks and lower highs, which continued for the next 12 weeks until Q4 2022 earnings shot shares higher from $19.85 to a peak at $26.59, setting up a higher market structure low (MSL trigger.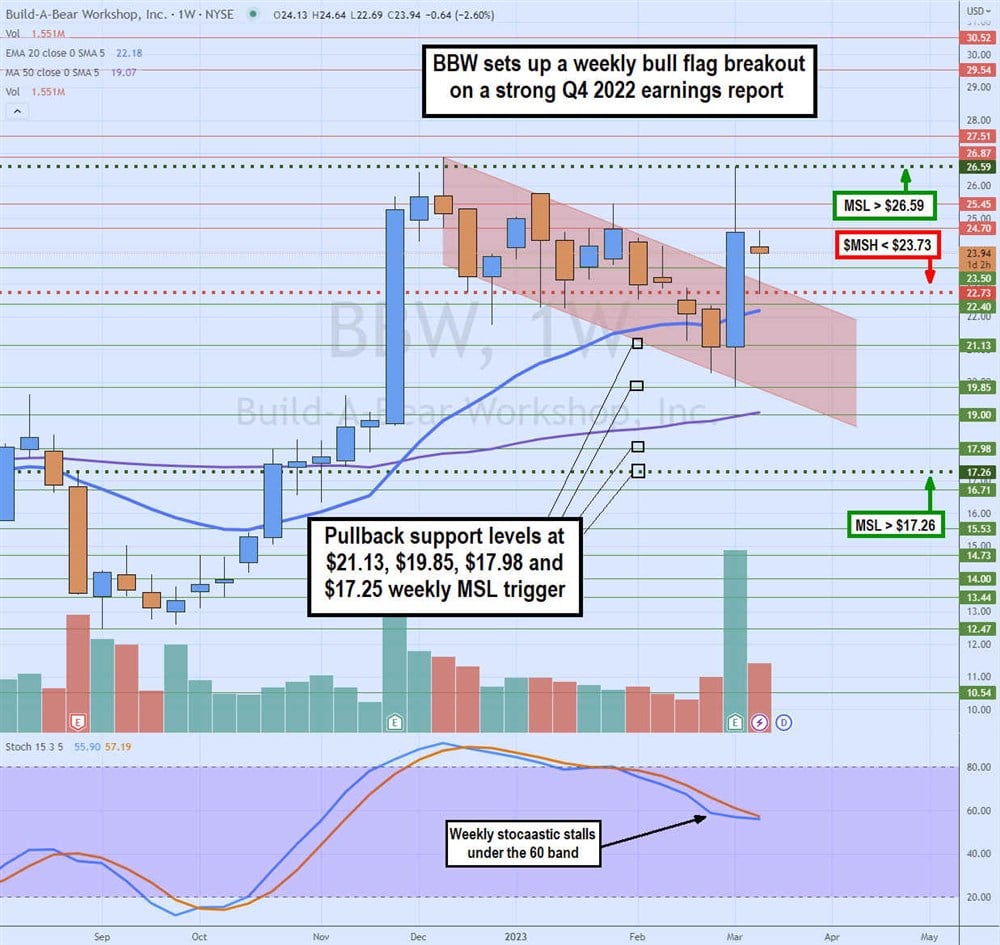 The weekly stochastic has fallen under the 80-band, but the significant earnings spike has caused the stochastic to stall near the 60-band. It will either cross back up to power the weekly bull flag higher or cross back down if shares fall under the weekly MSH trigger of $22.73.
The weekly 20-period exponential moving average (EMA) support is rising at $22.18, and the weekly 50-period MA support is slowly rising at $19.07. Pullback support levels are $21.13, $19.85, $17.98, and $17.25 weekly MSL trigger.