Look no further if you want yield and distribution growth in a large-cap name with a blue-chip appeal. A simple screen using Marketbeat.com's dividend screener will turn up names like Comcast (NASDAQ: CMCSA), Bristol-Myers Squibb (NYSE: BMY), and Amgen (NYSE: AMGN), among others. These companies have a market cap above $10 billion and come with well-established businesses and global recognition.
Among their other attractive qualities are yields above 3.0%, payout ratios below 50%, and a 3-year compound annual growth rate above 5%. They have also increased their payouts for at least 5 years, establishing track records of distribution growth, a known hedge against inflation. If these stocks don't meet your needs, you must fine-tune the screener to find what you want. 

Comcast: A Rose By Another Name? 
Comcast and Disney (NYSE: DIS) are not identical companies, but they are as close as 2 decades-old multinational entertainment companies can be, and they have a rivalry that dates back for decades. If you like Disney as an investment, you should love Comcast. The point here is that Comcast trades at a low 10X its earnings and pays over 3.0% in yield, while Disney is trading for twice the value and pays no dividend (at this time). Regarding Comcast's dividend health, the company is paying only 30% of its income as dividends, and the distribution is growing. Comcast has increased its payment for 5 years precisely and is on track to make it a 6th in fiscal 2024. 
The analysts are slightly more bullish on Disney than Comcast, but this is helping to drive the value. The takeaway is that Comcast is rated a solid Hold verging on Moderate Buy with a price target 20% above the current price action. The latest report included company records for revenue and earnings driven by solid performance in parks, cable channels and digital outlets.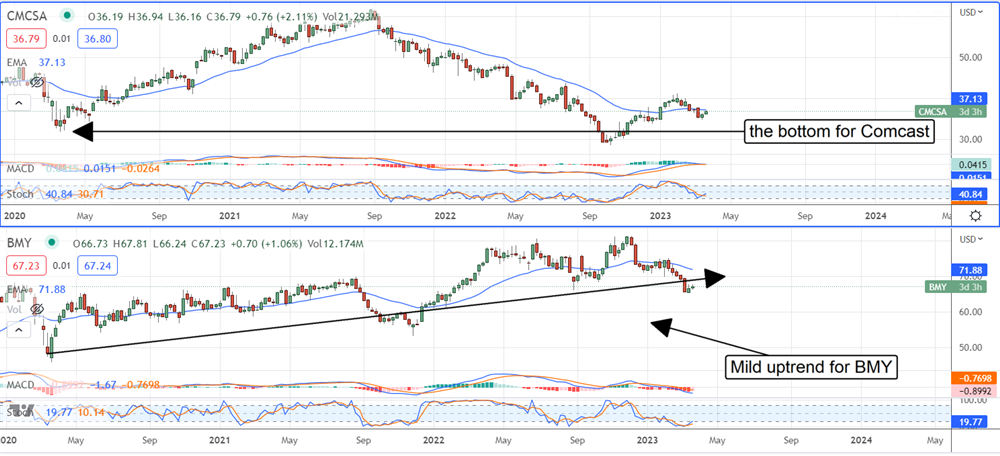 Bristol-Myers Squibb: Deeper Value, Better Yield 
Regarding the value and yield, Bristol-Myers Squibb offers a more profound value and a better yield than Comcast and provides diversification into blue-chip pharma. This stock pays nearly 3.5% while trading at only 8X its earnings which is cheap for a pharma company of its caliber. The payout is reliable at less than 30% of the earnings and increases total 6 years, with the 7th due at the end of this calendar year. The analysts are cautious about BMY shares, rating them a Hold, but they see an almost 20% upside for the stock, and the consensus is firming. 
The risk for Bristol-Myers Squibb is two-fold. The first risk is Medicare and pricing. The Biden Administration wants to let Medicare negotiate drug prices which could save the system $160 billion over 10 years. The 2nd risk is patent expirations. Bristol-Myers Squibb owns or is a partner in 4 of the top 10 drugs that are about to lose their patent protection. This will cost the company potential billions in revenue but is offset by a healthy pipeline of candidates. 
Amgen: Higher Price Tag Offset By Higher Yield 
Amgen has the highest price tag of these stocks, with a valuation near 13X. That puts it near the top of the range for most pharma companies, but the yield offsets this. Amgen pays more than 3.7%, with shares trading near $232, the lowest price in nearly a year. Amgen only has 1 drug in the top 10 at risk of losing its patent protection. Its critical patents will begin to expire next year. 
The analysts are the least enthusiastic about Amgen, rating it a firm Hold with a price target only 10% above the recent action. The difference is the consensus target is firming and helping to put a bottom in the stock. Amgen reports earnings at the end of April which could spark a reversal. The analysts expect flat revenue compared to last year and for earnings to contract by 6.3%. Outperformance or even a positive outlook could be the catalyst this market needs.