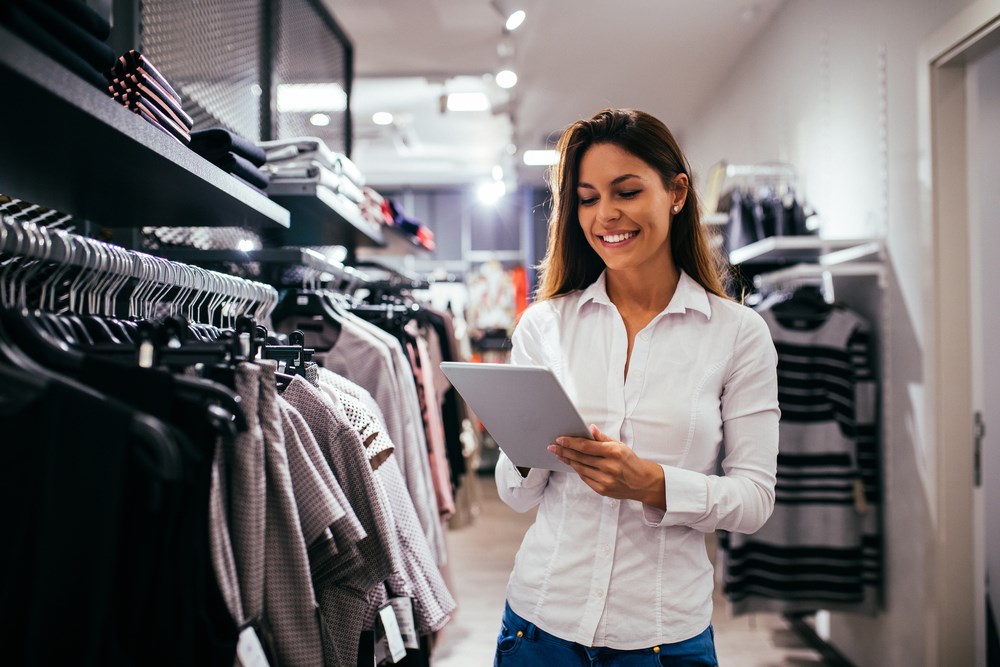 Consumer spending is the lifeblood of the economy. It's easy to look around and see the numerous brands, products and services circulating in your household. Companies produce these products that employ workers who are also consumers who spend money. What goes around comes around when it comes to the economy. 
Strong economies come with solid consumer spending and vice versa. Investing in retail stocks is one way of capitalizing on this dynamic. This article will review seven of the best retail stocks to invest in to help you navigate the retail sector and make more informed decisions.  
Retail Stocks: An Overview
Retail stocks produce, market or distribute products and services consumers buy. 
It's the oldest game in the book:
Produce and acquire at a lower price and sell at a higher price for a profit.

Use that profit to grow the business.

Rinse and repeat. 

Also, keep your customer happy so they keep buying products from your company. 
The formula is simple enough, but numerous companies have tried and failed. There are many features to pay attention to when investing in retail stocks.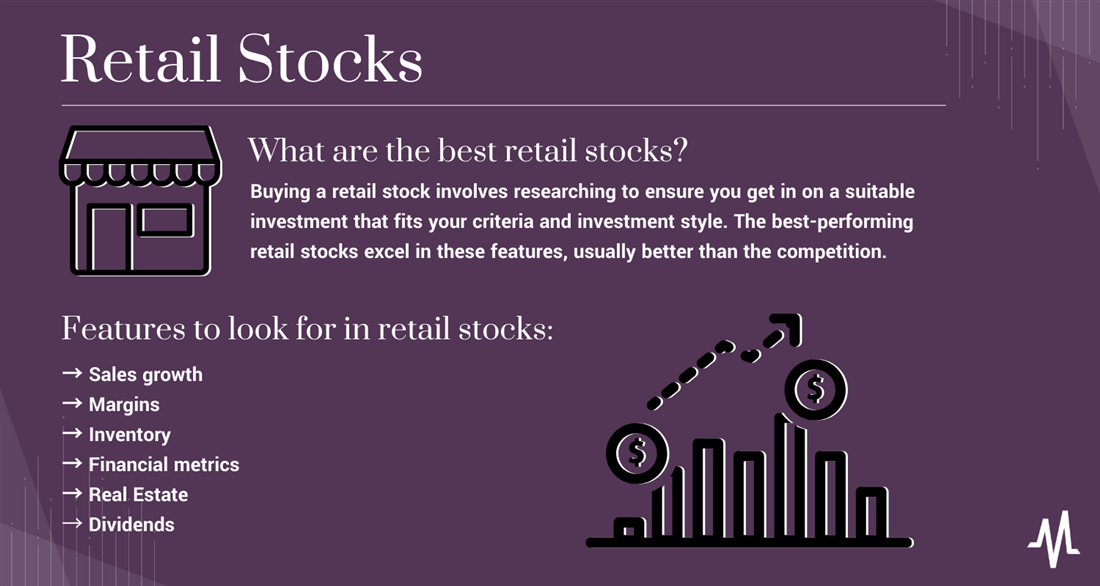 Features to Look for in Retail Stocks
Buying a retail stock involves researching to ensure you get in on a suitable investment that fits your criteria and investment style. The best online retail stocks for one investor may not suit another investor. There are certain features to look for when you search for the best retail stock. The best performing retail stocks excel in these features, usually better than the competition.
Sales Growth
Retail stocks that have growing sales are significant. Growing sales and revenues are essential drivers for retail stocks. Many retailers report same-store sales monthly so investors can quickly track the pace of growth or contraction.
Margins
While growing sales are a good indicator, the margins are what tell the true story. Retail stocks with growing margins indicate that the company is making more profits on its goods. Be careful when margins are falling while sales are rising, called margin compression, and it reflects a high volume of promotions and discounts to move products even for a loss. 
Inventory
Inventory is essential in times of high demand but can be a detriment when consumer demand falls. When consumers tighten their wallets, retailers tend to see a glut of inventory that they must discount heavily to sell, causing margin compression. High inventory levels are a sign of weak consumer demand.
Financial Metrics
You can use widely used financial metrics ratios like price-to-earnings (P/E), price-to-sale (P/S) and cash-per-share (CPS) to measure a retail stock's valuation. These financial metrics enable investors to contrast and compare large-cap retail stocks to see which may have superior fundamentals. 
Real Estate
The underlying real estate is an asset that can impact valuations. Many investors consider real estate to be a bonus when buying retail stocks. Real estate has a tangible value. The retail stock could be considered undervalued if it is more significant than the market capitalization. Many retail companies also own the land where stores are located.
Dividends
Retail stocks with a consistent dividend payment history are attractive for investors seeking income and growth from their stocks. Remember that the company must show a profit to maintain the dividend payments. Many of the top retail stocks are blue-chip companies. Be careful to select retail stocks that pay dividends but suffer losses as it may signal an impending dividend cut or termination.
7 Best Retail Stocks
Here's a list of the seven best-performing retail stocks. This list is in no particular order and not by ranking. The list helps you decide the best retail stock to buy. These retail companies vary as to being consumer staples or consumer discretionary stocks. 
Amazon.com Inc.
Amazon.com Inc. (NASDAQ: AMZN) sales surged through half a trillion dollars in 2022 and growing. Amazon.com is the world's largest online retailer. This is the go-to website to purchase everything online, from books to smart TVs to toothpaste and device insurance. Amazon is a sum-of-all-parts powerhouse in retailing. It has its own private label brand of products in addition to smart speakers like the Alex and Echo and Fire tablets and Kindle e-readers. 
Its Prime membership entitles subscribers to free and low-priced shipping and access to several services, including its streaming video service Amazon Prime and streaming music service Amazon Music. Amazon is considered a blue-chip stock in addition to also being a technology and a retail stock.
The company also owns Whole Foods Market grocery stores and growing its Amazon Fresh business. It's expanded into pharmacy and prescription benefits management enabling users to have their prescriptions delivered. In addition to retail products, it's a leader in cloud computing with its Amazon Web Services (AWS), which continues its double-digit growth driven by the secular tailwind of cloud migration and adoption. Amazon stock has a five-year performance of 32.5% with no dividends.
Check Amazon.com analyst ratings and price targets on MarketBeat.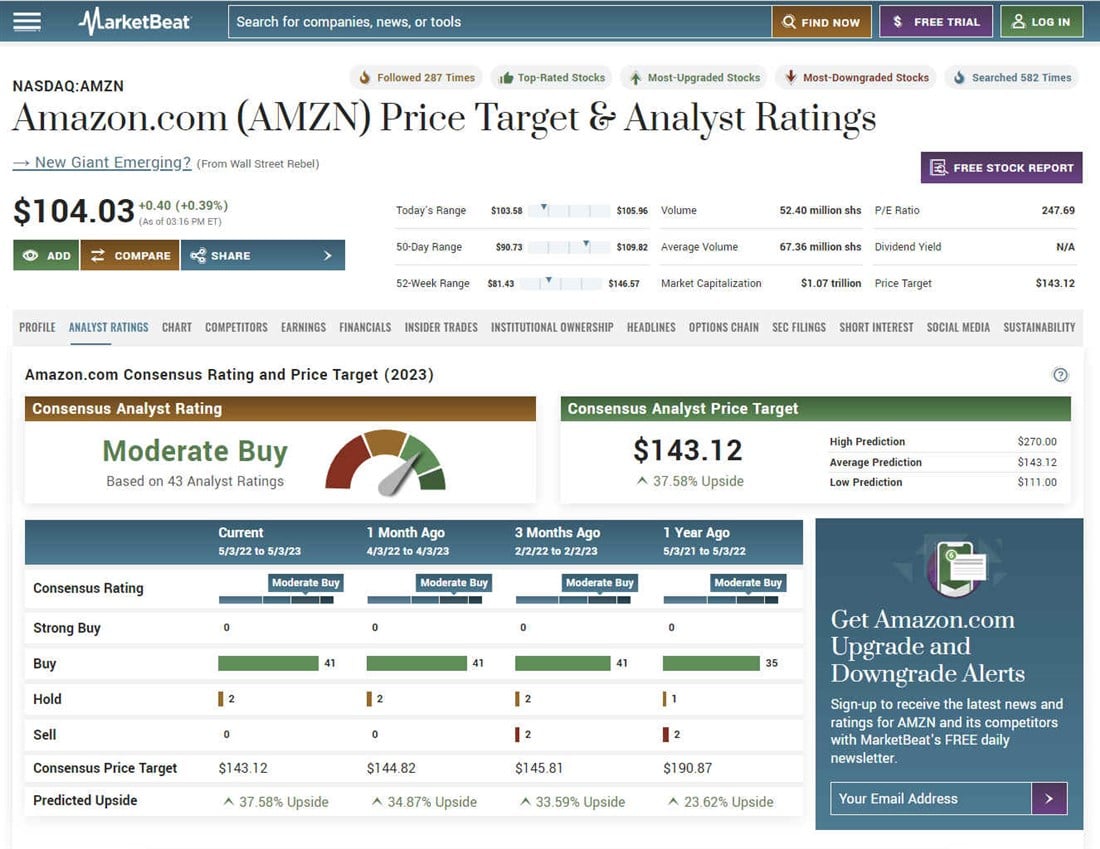 Walmart Inc.
Walmart Inc. (NYSE: WMT) is the world's largest brick-and-mortar retailer, with sales of $611 billion in 2022. It's the largest employer in the world, with over 2.3 million workers globally. The company has over 10,500 stores globally, serving over 230 million customers weekly across 20 countries. The average Walmart store is roughly 120,000 square feet selling consumer products, including groceries and electronics. 
Groceries comprise over half its annual sales, followed by general merchandise and health and wellness products. Its most popular product is bananas selling more than 1.5 billion pounds yearly. Walmart owns much of the land its stores operate on but will often sell the real estate to investment trusts (REITs) and lease the land. Its real estate subsidiary is Walmart Realty.
Walmart also owns and operates over 600 membership-only Sam's Club retail warehouse stores, with plans to open more than 30 new warehouses in the next few years. The new warehouse stores are nearly 160,000 square feet. The company is the largest importer in the U.S. Walmart is a member of the Dow Jones Industrial Index. Walmart stock has a five-year performance of 74.6% with a 1.57% annual dividend yield. 
Look for Walmart earnings results, estimates and conference call transcripts on MarketBeat.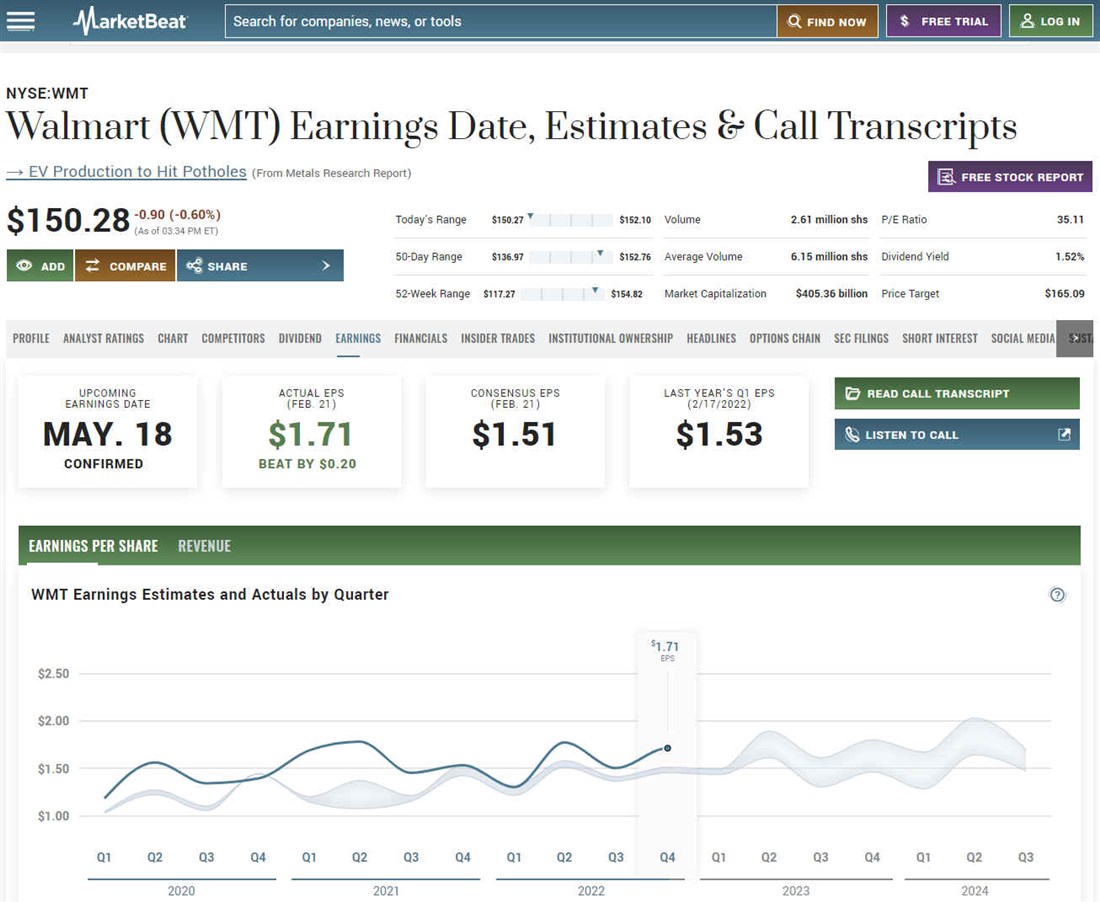 Target Corporation
Target Corp. (NYSE: TGT) offers general merchandise and consumer products in the U.S. With over $100 billion in annual sales, the company is the eighth-largest retailer in the country. Target also sells grocery items with pharmacy services. Target owns over 80% of the real estate its more than 1,800 stores are located on. The company plans to invest up to $5 billion in 2023 to expand its locations by adding 20 new large-scale stores and remodeling up to 175 of its existing stores. Target is considered a consumer staples stock selling essential household items and products.
The new stores are designed to be a massive 150,000 square feet featuring store-in-store layouts that include Ulta Beauty and Apple brand products. It will also expand its distribution center locations from nine to over 15 by 2027. This will expedite its next-day delivery for up to 40% of its digital orders. It removes the pressure from its brick-and-mortar retail stores enabling workers to focus solely on its guests. Target stock has a five-year performance of 117% with a 2.79% annual dividend rate. 
You can find Target financials, including income statements and balance sheets, on MarketBeat.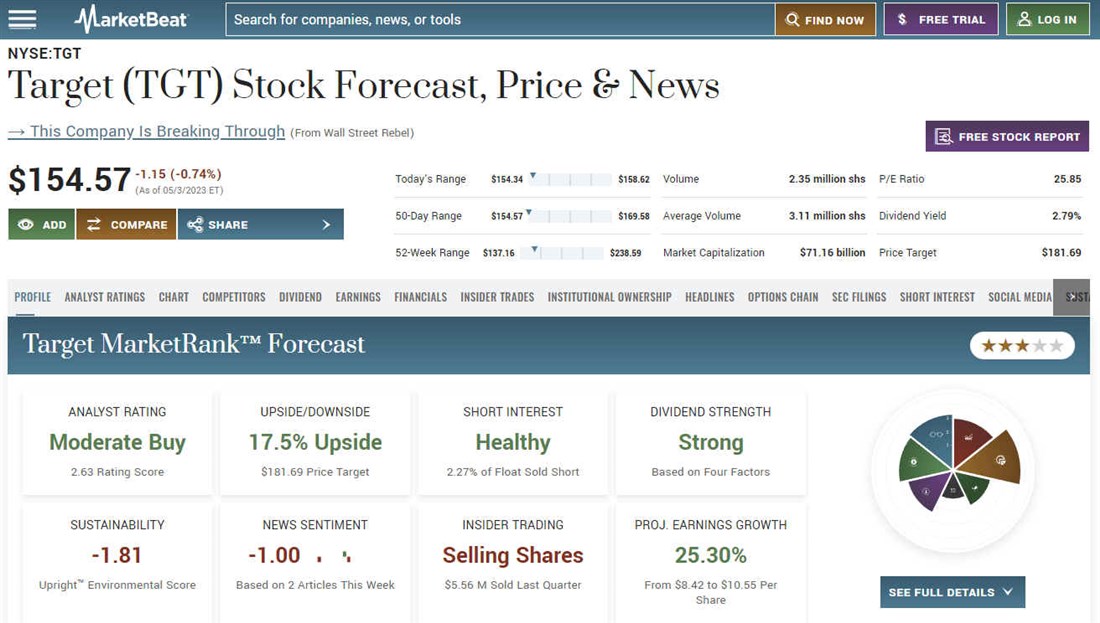 Nike Inc.
Nike Inc. (NYSE: NKE) is one of the world's most valuable and iconic brands for sports sneakers, apparel, equipment and accessories. The company had global sales surpassed $45 billion in 2022. Its famous swoosh logo is recognized worldwide. Nike sells its products through multiple channels, including over 1,200 physical stores, retail department and outlet stores, online and direct-to-consumer (DTC). Nike is considered one of the best consumer discretionary stocks to own. The company regularly makes headlines for mega product endorsement deals. 
It's been consistently at the forefront of shifting consumer fashion trends. Nike shoes have hit collectibles status. Sneakerheads are hardcore collectors willing to pay thousands for vintage and rare models helping to create a growing secondary market. This enables Nike to sell multiple shoes to collectors who may buy a specific pair to wear and an additional pair as an investment. Nike stock has a five-year performance of 82% with a 1.07% annual dividend rate.
Look for Nike analyst ratings and price targets on MarketBeat.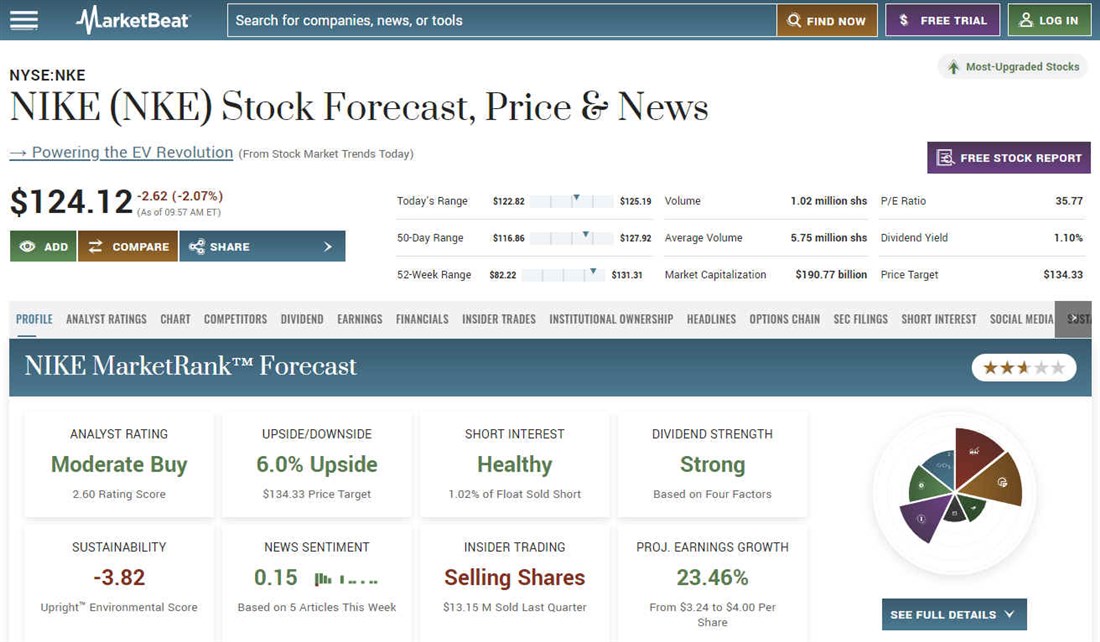 Costco Wholesale Corp.
Costco Wholesale Corp. (NASDAQ: COST) is one of the world's largest warehouse membership clubs and the third largest retailer in the U.S. It operates more than 580 warehouse stores in the U.S. and over 840 warehouses total worldwide, serving more than 120 million members. Customers pay an annual membership fee to become a member to gain access to the warehouses. Customers usually shop in bulk to save the most amount of money. 
The company generated over $220 billion in 2022, with its number one selling item being toilet paper. Unlike big box stores, Costco keeps a smaller product selection to keep the quality and prices low. Its hallmark is offering bulk products at lower prices. It sells everything from office products to smart TVs, household products, fuel and groceries. It's one of the world's largest wine sellers. 
Its Kirkland private label brand has been praised for its quality and low prices. Its famous food court is also well-known for its low-priced but high-quality meals. Costco stock has a five-year performance of 159.5% with a 0.83% annual dividend yield. Check out Costco analyst ratings and price targets on MarketBeat.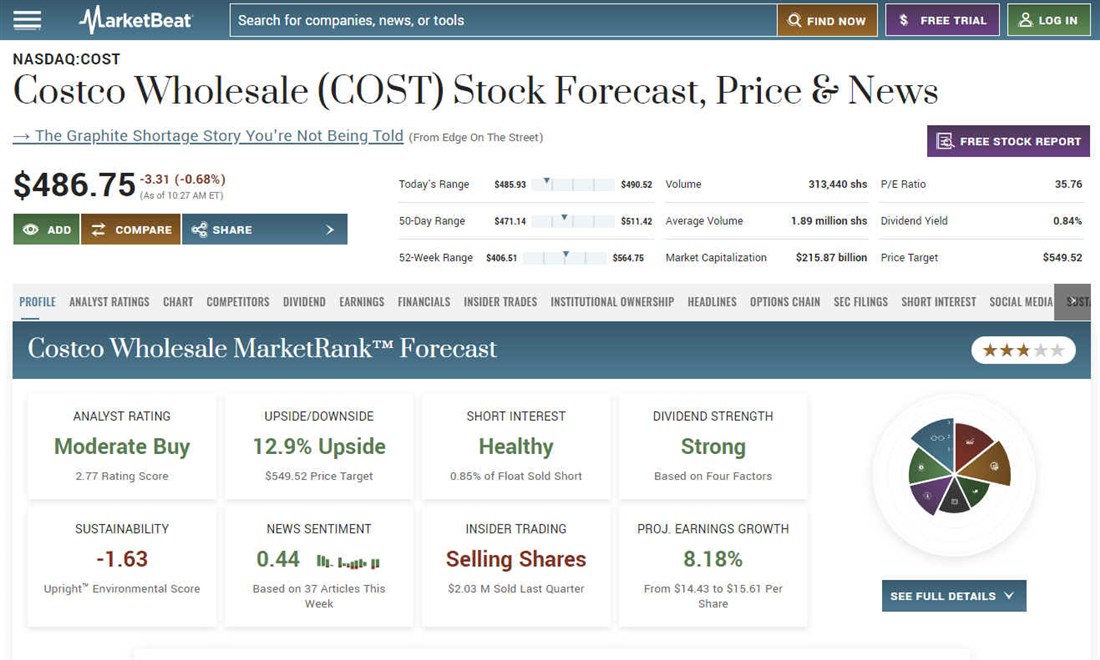 Ralph Lauren Co. 
Ralph Lauren Co. (NYSE: RL), a consumer discretionary company, is a luxury fashion design company that has evolved into a premium lifestyle brand offering products under the Polo, Chaps and Ralph Lauren banners. The company sells apparel, footwear, accessories, fragrances and home furnishings. It's an iconic American brand known for its stylish and high-quality products. It sells at 504 retail locations and 684 store-within-a-store locations, department stores and other retail outlets. 
The company also has several restaurants, including the Polo Bar in New York, RL Restaurant in Chicago and the Bar at Ralph Lauren in Milan, Italy. The company generated over $8 billion in revenues in 2022. Ralph Lauren stock has a five-year performance of 3.57% with a 2.67% dividend yield. Check out Ralph Lauren analyst ratings and price targets on MarketBeat.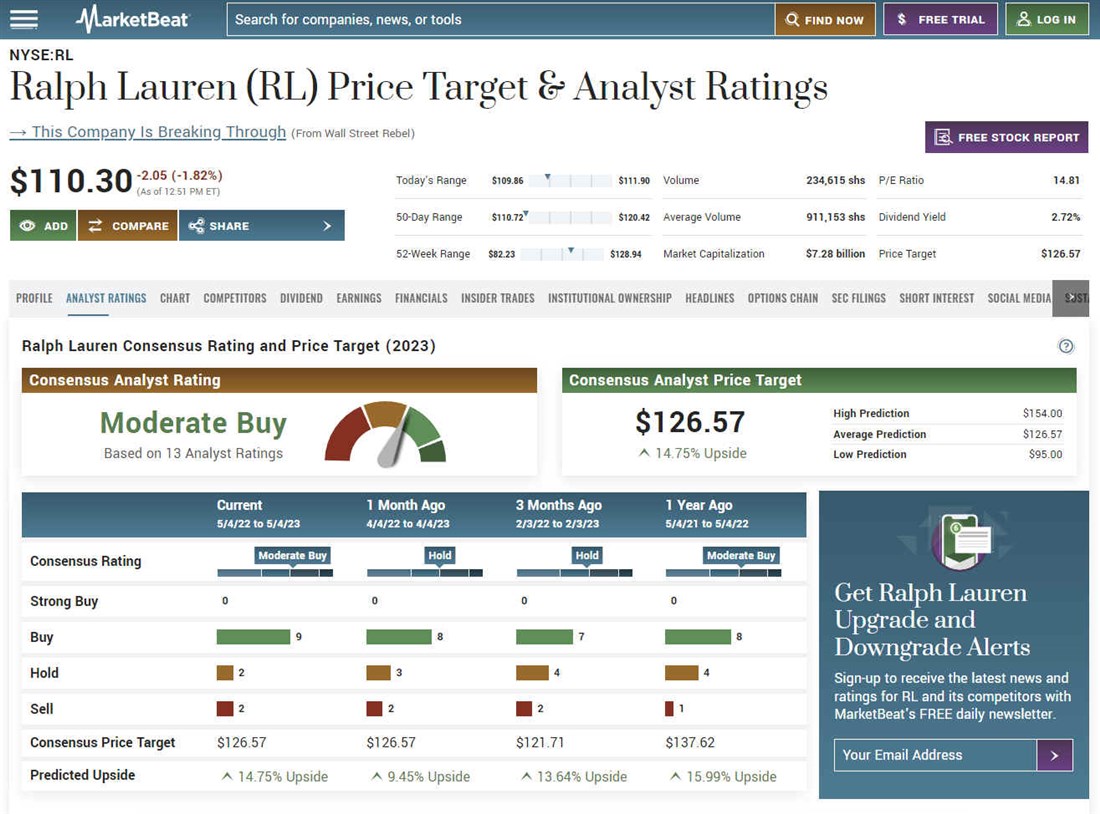 The Walt Disney Company
The Walt Disney Company (NYSE: DIS) is a significant media and entertainment company well known for its trademark characters and family-friendly entertainment. The company generated over $87 billion in revenues in 2022. Disney owns the Marvel Comics IP and Marvel Studios movie and TV production studio. The company also owns Pixar, the producer of Toy Story. It owns the Star Wars franchise of movies, licenses and products. Disney owns some of the top-grossing movies of all time, like Avengers: Endgame and Avatar. 
It has a streaming network with more than 200 million subscribers on the Disney Plus service. It owns ESPN and a stake in Hulu. The company's theme park business has rebounded strongly from the pandemic and is the most profitable segment. Disney plans to invest up to $17 billion in upgrading and expanding its theme parks in the next decade. Disney stock has a five-year performance of down (3.3%) with no dividends. Look for Disney analyst ratings and price targets on MarketBeat.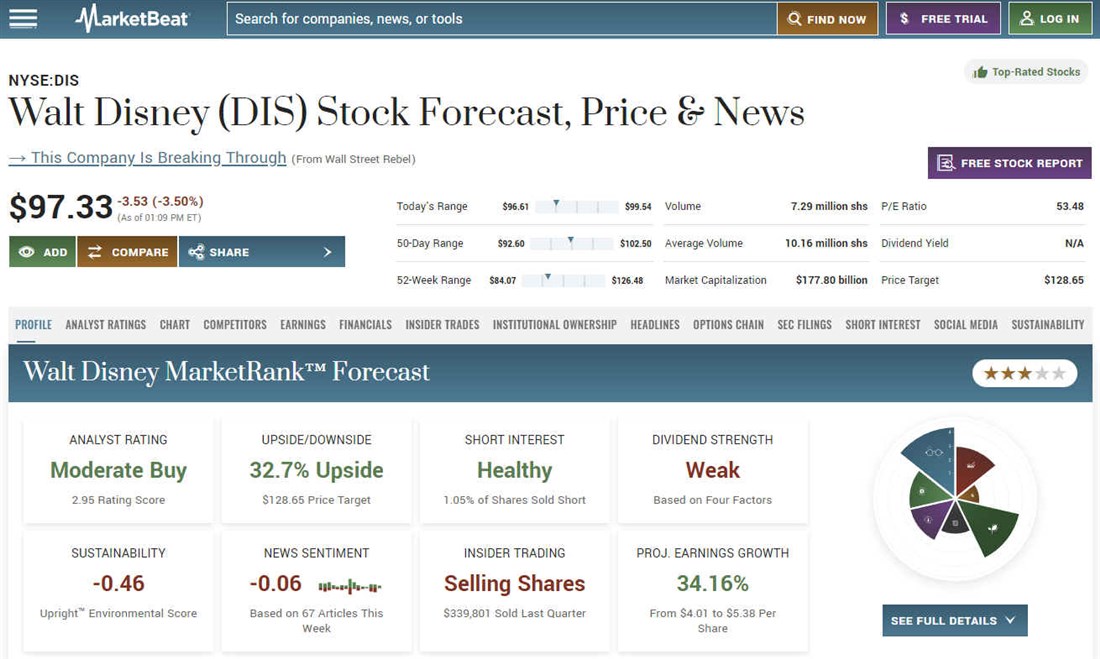 Consumer Apparel Department Stores 
You may have noticed retail apparel department stores have been left off the list for good reason, such as Macy's, Kohl's and Nordstrom, which are going through a secular tailwind of weakening consumer discretionary spending on apparel and falling foot traffic. 
More and more shoppers have migrated to online shopping and e-commerce, which is why Amazon.com has grown to be the largest online retailer in the world and as foot traffic to shopping malls and brick-and-mortar stores continues to decline. 
Walmart and Target also sell clothing, but their grocery businesses make up for any slack in the apparel sales segment. 
FAQs
Here are some answers to frequently asked questions about investing in retail stocks. 
What are the best retail stocks to invest in?
It's a common question: What is the best retail stock to buy? That depends on your investment goals and risk tolerance. Investing in an industry leader provides more stability, especially when it has a long history of consistent dividend payments. Consumer discretionary stocks have more stability than consumer discretionary stocks since they carry essential items.
Are retail stocks a good investment?
They can be a good investment depending on the price you got into the stock and how long you plan to hold it. Consider not chasing stocks when prices hit a 52-week high, nor dive in headfirst on a 52-week low.
How do you invest in retail stocks?
Learn about the retail sector first, then review some of the companies above to see if they suit your investment criteria. Have a brokerage account funded and place your trade to invest. If you can't choose one stock, you can always consider a consumer staples index fund that exposes you to a basket of retail stocks.