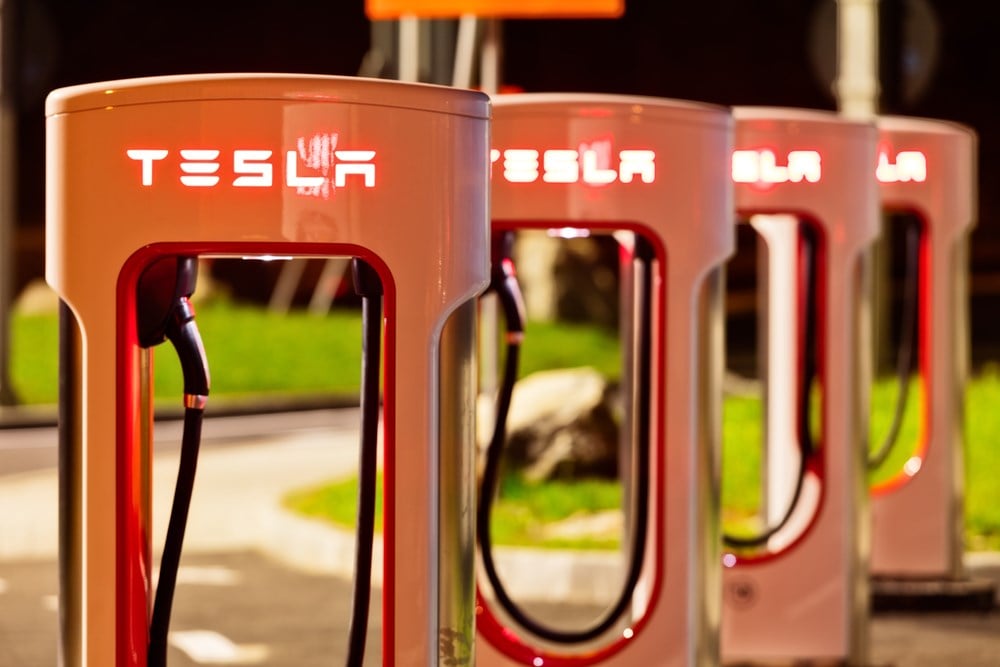 In a move that caught EV industry insiders off guard, Tesla and Ford last week announced a partnership to allow Ford electric vehicle owners to use the Tesla Supercharger networking, comprising over 12,000 charging stations.
Existing Ford EVs will use an adapter to access Superchargers, while new Fords will be fitted with a Tesla connector.
This marks the first time that Tesla has officially opened up its exclusive charging network to an outside brand, and the move raises questions about the strategic implications for both companies.
Why Did Tesla Do This?
The news surprised many Tesla (NASDAQ: TSLA) owners, as Tesla owners have historically benefitted from the exclusivity of the Tesla Supercharger network. Being a luxury brand, this idea of Tesla owners being in an exclusive club has contributed to the cult status of the Tesla brand, and any move to harm that reputation raises questions.
However, Tesla CEO Elon Musk now envisions a different path as he told listeners on a Twitter Spaces call that he doesn't want the Tesla Supercharger to be a "walled garden" and perhaps even become a standard for the industry "in the same way that maybe Android is helpful to the phone industry as sort of a general standard."
This move is another step toward opening up the Tesla Supercharger network. Initially proprietary, Tesla opted to make the Supercharger connector into its own standard, called the North American Charging Standard (NACS), allowing any automaker to use the Tesla Supercharger connector.
Tesla: Trying to Become the EV Charging Standard?
Many analysts view this move as part of an effort by Tesla to position its North American Charging Standard (NACS) used by its Supercharger network to become the industry standard and challenge the current charging standard, the Combined Charging System (CCS) used by many other EV makers like Volkswagen and Honda.
Industry experts like JD Power already recognize NACS as the industry's most reliable charger. And Tesla has the largest charging network in North America, with a more extensive charger fleet than all CCS fleets.
Now, with the top two EV makers (Tesla ranks first, with Ford at a distant second) using the NACS, it lends serious credence to becoming the new industry standard.
This has immense financial consequences, opening up Tesla for billions in potential federal subsidies to build a nationwide EV charging network. However, as the law is written, those subsidies are earmarked for CCS chargers. If Tesla can change the industry standard, it may lobby the government to direct the subsidies toward Tesla.
This would open up a massive avenue of business for Tesla, effectively becoming the "gas station" for the majority of EVs, which is a far more stable business than a luxury automaker.
With all that in mind, there are still significant questions about this gambit from Musk. While it brings the company closer to establishing its charging units as the industry standard, it still helps out its closest competitor.
Despite the uncertainty around this deal, investors happily bought Tesla (NASDAQ: TSLA) stock on the news, up roughly 7% since the deal went public: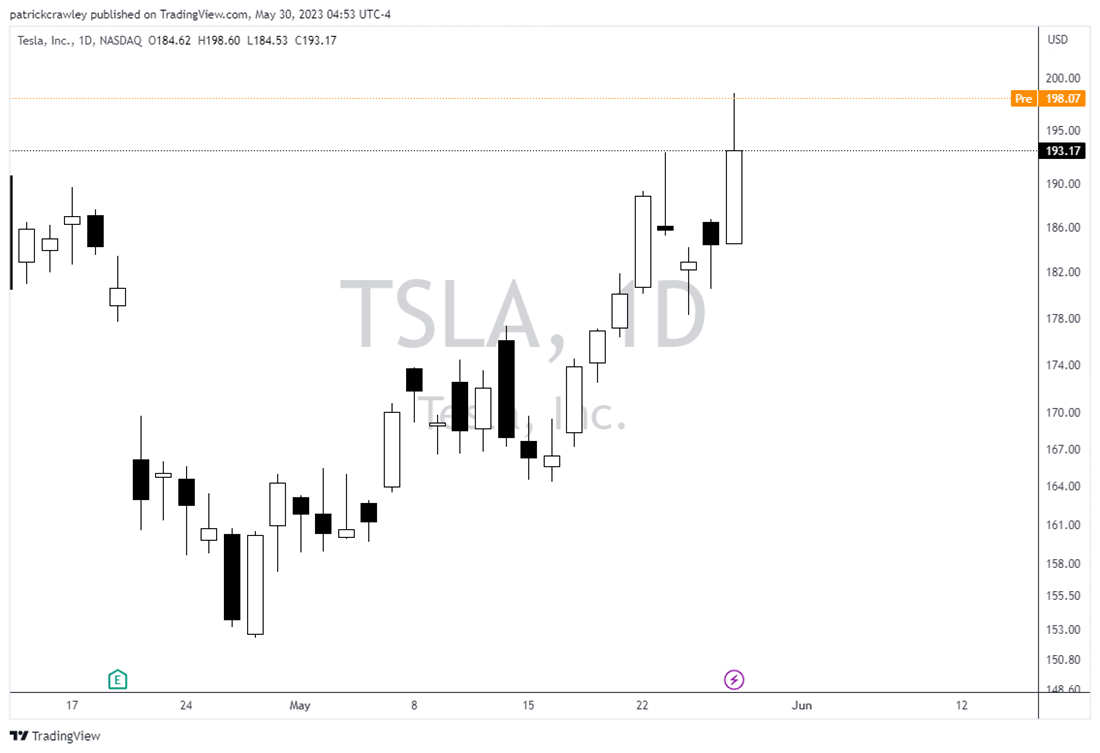 Ford: Nothing But Upside
This deal was a no-brainer for Ford (NYSE: F). Expanded access to Tesla's vast Supercharger network eases the most significant barrier to EV adoption: range anxiety.
The idea that one might run out of power without access to a charger terrifies some potential EV buyers. With more accessible charging points, prospective Ford EV buyers might find their purchase decision simplified.
Using NACS effectively legitimizes Ford EVs as a "daily driver" option for drivers with long commutes and frequent road trips. EV industry expert Brad Templeton wrote about this phenomenon in Forbes recently:
"The harsh reality is that a cross-country road trip in a Tesla today is a greatly superior experience to one in a CCS car. Enough so that buyers who care about road trips have to really hate Tesla to get anything else."
With Ford sitting at a distant second in EV sales to Tesla, this deal could fuel Ford to eat up some market share from its direct competitors like General Motors and Toyota.
Ford (NYSE: F) stock surged 6% on the news and is up another 3% in pre-market trading early Tuesday.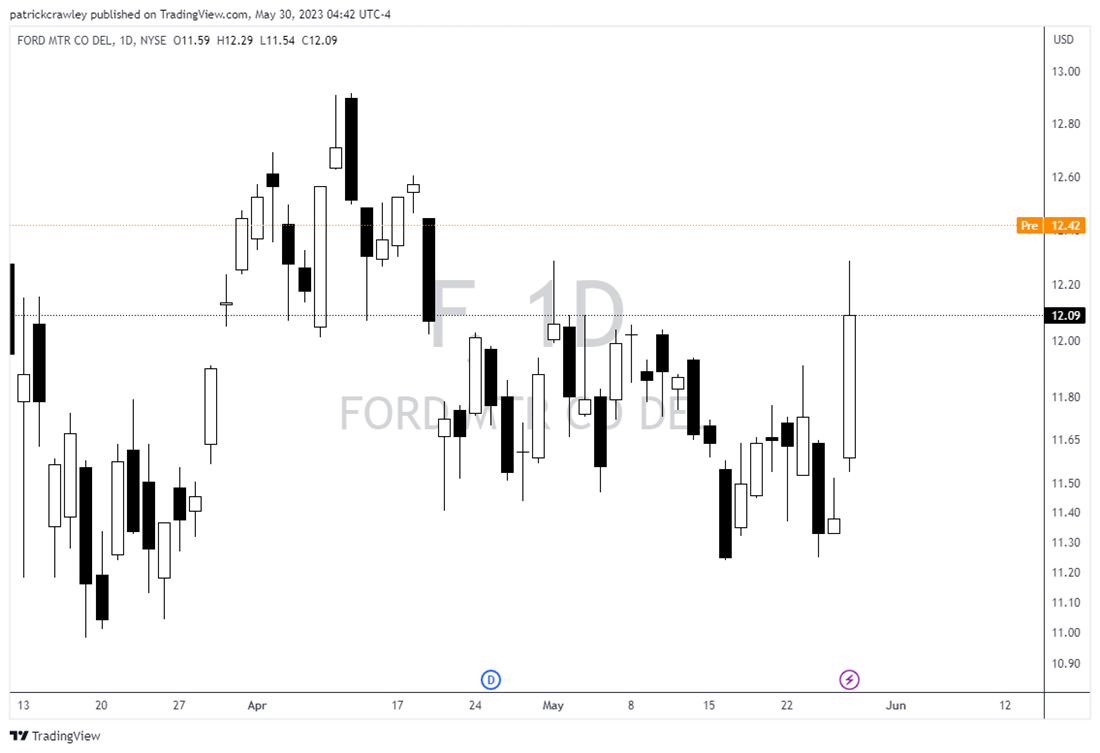 Bottom Line
Tesla CEO Elon Musk took a risk with the decision to open up the Tesla Supercharger to other brands. It arguably hurts the experience of owning a Tesla (longer wait times at Superchargers) and strengthens its closest competitor in Ford.
But, Tesla seems to value solidifying its stronghold over the charging market over any juice that it gave to Ford and other competitors.