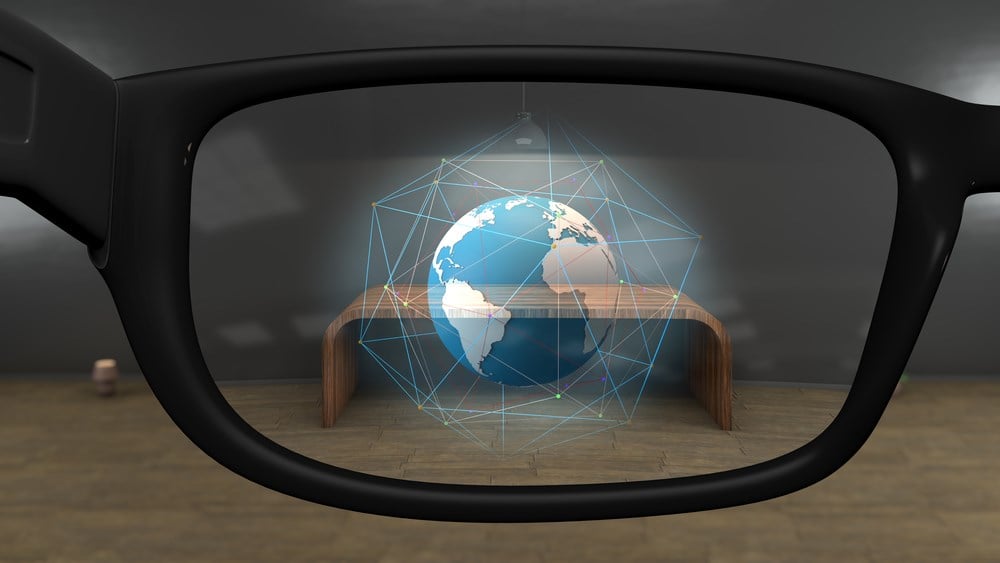 Vuzix Corporation (NASDAQ: VUZI) makes augmented reality (AR) glasses and solutions for the manufacturing, healthcare, aerospace, military and industrial industries. Most consumers might equate AR glasses to gaming or entertainment, but work applications are continuing to grow as the need for mobility and hands-free operativity becomes more prevalent. As AR and virtual reality (VR) become more mainstream, more applications and use cases will develop. The company already counts The Boeing Co. (NYSE: BA) and Honeywell International Inc. (NYSE: HON) as clients.
Growing Mainstream Spotlight
As tablets and smartwatches didn't become mainstream until Apple started making them, the same may apply to AR glasses. During its World Wide Developer Conference in June 2023, Apple Inc. (NASDAQ: AAPL) unveiled its Vision Pro AR glasses. This will shine a more prominent spotlight on AR glasses as they are expected to launch in 2024. While VR headsets can be clunky, AR glasses tend to be lighter, more comfortable and most importantly, mobile. AR glasses have a higher potential to go mainstream than VR as the metaverse gains traction. Vuzix is a pioneer and leader in AR solutions and may finally be noticed by investors and the mainstream setting 2023 up to be a breakout year.
Vuzix M400
Taking a page from a science fiction movie, the futuristic Vuzix M400 has proven helpful in many industries. The Vuzix M400 AR glasses are light and designed to use all day. They use an OLED display with a 16:9 aspect ratio and 2,000 nits brightness. They are powered by Qualcomm Co. (NASDAQ: QCOM) 8 Core processors with 64 GB of ram and a 13MB camera with up to 4K30 video capable of voice control in multiple languages. These glasses are already used in the defense industry, the Internet of Things (IoT) and warehousing, healthcare and surgical applications. The $1,400 may be high for consumers but is priced low for commercial and military clients.  
Sales Acceleration
On May 10, 2023, Vuzix reported its fiscal Q1 2023 results for the quarter ending March 2023. The Company reported an earnings-per-share (EPS) loss of (-$0.16), missing consensus analyst estimates of ($0.12) by (-$0.04). Revenues rose 67.4% year-over-year (YoY) to $4.19 million beating $3.78 million consensus analyst estimates. This was driven by higher unit sales of the M400 smart glasses, with no engineering income.
Vuzix CEO Paul Travers commented on the acceleration of adoption driving demand, "On the OEM side of our business, we continue to see an influx of customer interest including a growing number of requests for quotes associated with defense, consumer and enterprise-focused customers, all of whom are interested in our waveguide and display engine solutions." He expected to see record overall revenues with its core smart glasses, engineering services, OEM products, and SaaS solutions.
Winning Military Contracts
On June 13, 2023, Vuzix reported it received a follow-on OEM purchase order from a U.S.-based defense company for engineering services. The follow-on order raises the total value to mid-six figures. The contract is for Phase 2 development of components for heads-up display (HUD) technologies previously supplied by a non-U.S. company. CEO Travers commented, "Our development efforts with some of the country's largest defense contractors continue progressing steadily. There is a significant need for advanced see-through display technologies that Vuzix remains in a unique position to deliver as a leading-edge US-based designer and manufacturer of waveguides and related technologies."
Vuzix analyst ratings and price targets are at MarketBeat.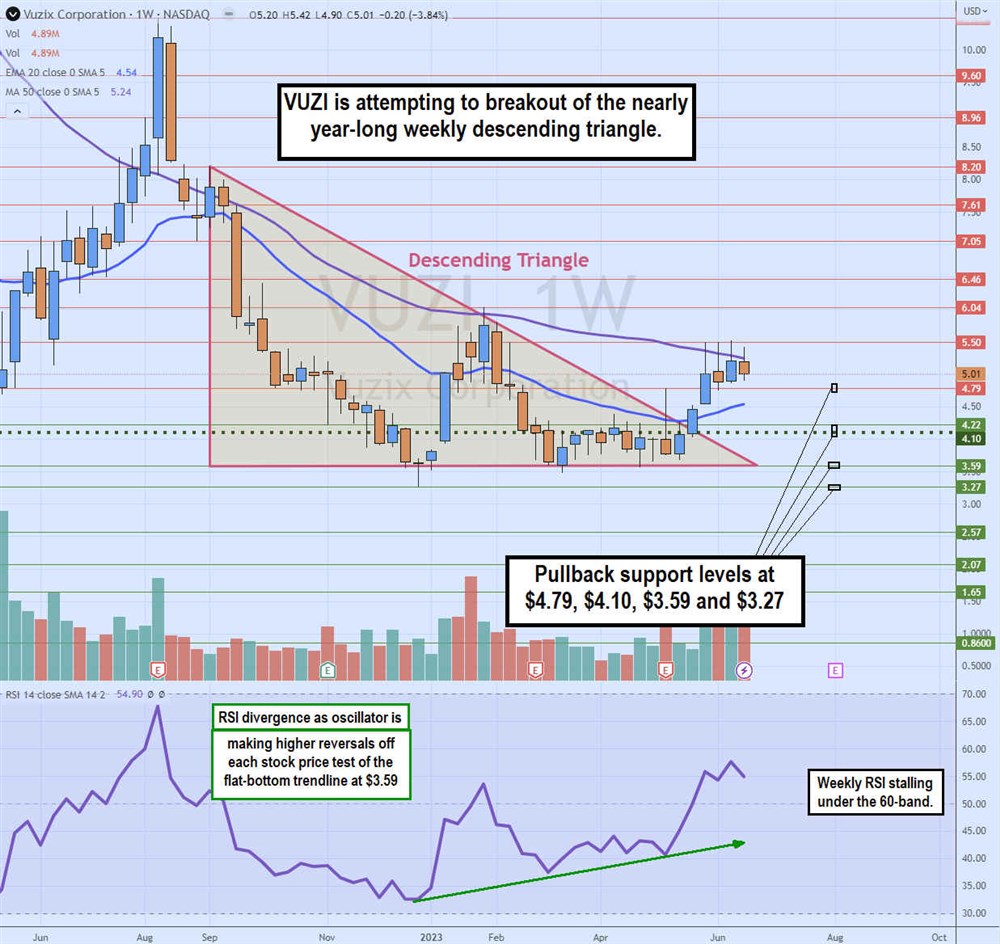 The definitive beginner's guide to reading stock charts can be found free on MarketBeat.
Learn how to use the RSI indicator on MarketBeat. 
Weekly Descending Triangle Breakout and RSI Divergence
The weekly candlestick chart on VUZI illustrates a descending triangle that started in September 2022 after peaking at $8.20. VUZI sold off to form a triangle flat-bottom trendline around $3.59 in December 2022. Shares rallied to $6.04 in January 2023 but sold off again, forming the descending trendline as each bounce resulted in a lower high.
VUZI triggered a weekly market structure low (MSL) breakout in March 2023  through the $4.10 trigger that finally got legs in May 2023 as VUZI broke out of the descending triangle. VUZI rallied to test the weekly 50-period moving average resistance at $5.24. The weekly RSI signaled a divergence bottom as it bounced up off higher band levels each time VUZI fell back down to retest the $3.59 flat bottom trendline.
This signals a potential rally forming as buyers step in higher on pullbacks. The pullback support levels are at $4.79, $4.10 weekly MSL trigger, $3.59 and $3.27.