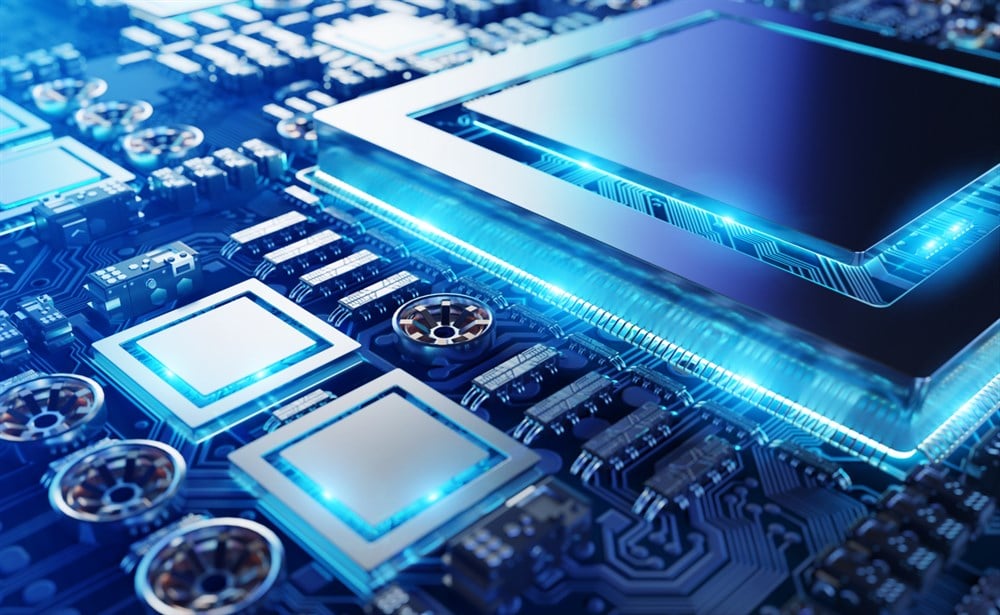 Artificial intelligence (AI) means different things to different industries. For investors, it can be confusing and even a little suspicious, as companies are bending over backward to tout their AI capabilities to investors. 
That's why a better way to invest in the growth of AI is to invest in semiconductor stocks. Semiconductor chips are the backbone of AI. From robotics to autonomous driving to data analysis, demand for processing power and speed will be precedented to fuel the growth of AI.  
And this growth will be measured in years and perhaps decades. So it's possible that investors are at the beginning of a super cycle for chip stocks. To support that point of view, Grand View Research estimates the AI chip market could grow to $134.64 billion by 2027. That would be a compound annual growth rate (CAGR) of 5.9%.  
That's why now is still a good time to invest in chip stocks. And the three stocks listed below all appear to have long runways for future growth.  
The Undisputed Leader Still Has Room to Run 
Nvidia Corporation (NASDAQ: NVDA) is one of the success stories of 2023. However, with NVDA stock up 219% for the year as of this writing, many analysts are saying the top is in.  
They could be right, but at this time many analysts disagree. According to the Nvidia analyst ratings on MarketBeat, 10 analysts have boosted their price targets for NVDA stock. And all of those targets are above the stock's price of $466.96 on July 31.  
Of course, there are no guarantees for Nvidia or any other chip stock. It's possible that the economy could weaken sharply. If that occurred, it would likely slow demand for AI-related applications. But slowing is not the same as reversing. The move towards AI is real and will continue. There are simply too many areas of the economy that will drive demand for AI. And Nvidia is well-positioned in many of those sectors.  
If you're buying stocks for the long haul, Nvidia is a name that you can safely buy and hold.  
An Emerging Competitor in a Key Niche 
Qualcomm, Inc. (NASDAQ: QCOM) is a chipmaker best known for its role in the mobile device/5G space. The company is perhaps best known to investors as the company that supplies Apple, Inc. (NASDAQ: AAPL) with the chips for Apple's iPhone's.  
That business has been struggling. However, the growth story for Qualcomm is emerging as the company pushes into AI-driven sectors such as autonomous driving.  
In January, Qualcomm launched its Snapdragon Ride platform. These chips have the ability to provide anywhere from Level 1 to Level 5 autonomous capabilities. It's worth noting that Qualcomm has already inked partnerships with several EV manufacturers.  
Qualcomm also has an appealing fundamental setup. The forward P/E ratio is around 20x and full-year earnings are expected to climb approximately 19%. But the current consensus price target only shows QCOM stock getting a lift of about 11%.  
This Chip Maker Looks Undervalued 
Teradyne, Inc. (NASDAQ: TER) is a peripheral play on the chip sector. Specifically, the company is involved in semiconductor testing, which is essential to ensuring that the end products perform as expected. While the company tests more than semiconductor chips it's a significant part of the company's business.  
With that said, the company has been managing through a correction cycle in semiconductor testing over the past four quarters. But expected growth, particularly in areas like automotive, cloud computing, and edge AI applications to be significant drivers of growth in coming quarters.  
This correction cycle presents investors with an interesting setup. Teradyne reported earnings on July 25, 2023 and beat on both the top and bottom lines. Full-year earnings are expected to rise by over 55%. Yet, the consensus estimate as of this writing is for the stock to fall by over 16%. 
Something has to give. In the case of Teradyne the consensus target is likely to rise as more analysts weigh in on TER stock. According to the Teradyne analyst ratings on MarketBeat, two analysts have already raised their price targets and both of those targets are well above the consensus target.