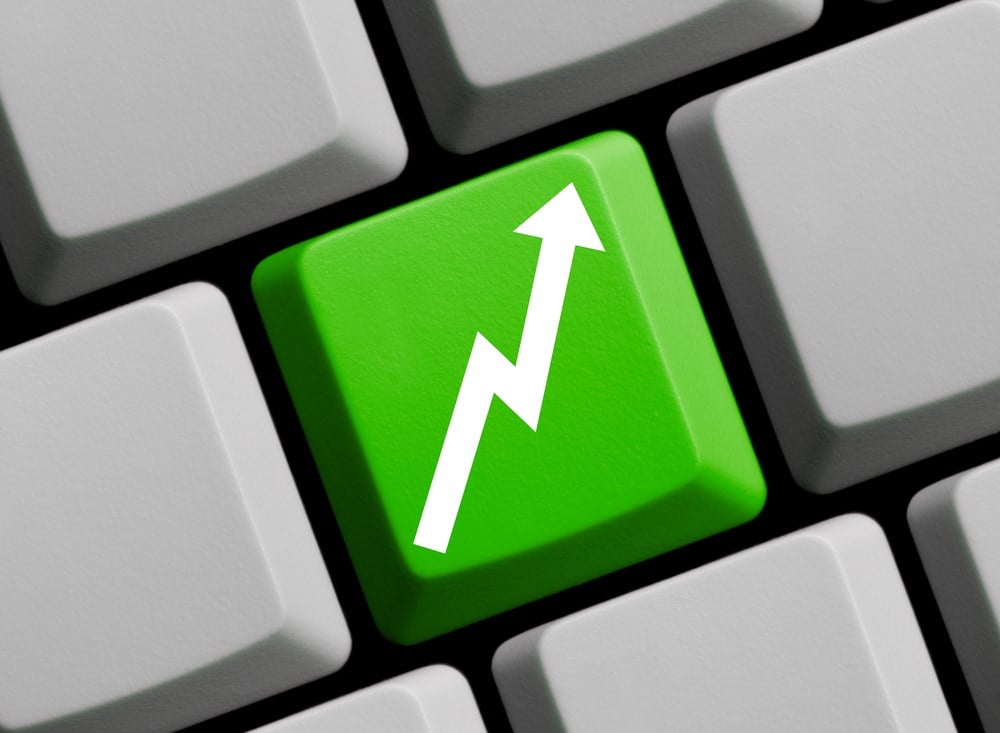 Hard to believe, but the 2023 holiday shopping season is quickly approaching. Rather than wait until the last minute to do your shopping, getting prepared early is prudent. This also applies to stocks that benefit from holiday shoppers. Stepping into these two stocks ahead of the crowd may be an early holiday present.
You might be wondering what Amazon.com Inc. (NASDAQ: AMZN) of China has to do with holiday shopping in the United States. Pinduoduo is a Chinese online retailer operating a  social commerce digital marketplace. It has a unique group-buying model encourages users to share items with individual social networks, forming groups with family and friends.
The more buyers show interest in an item on Pinduoduo, the greater the discount is applied. This model has proven so successful in China, with over 700 million active users, that they've opened a U.S. digital marketplace called Temu.com. The items are discounted up to 90% of what you may pay on Amazon.com. It's worth noting that Amazon.com has excluded Temu.com from its price-matching program due to quality standards.
Buying Direct From Suppliers
That's because you buy directly from the manufacturers and wholesalers in China and avoid the "middleman" third-party seller on Amazon. The catch is that the quality is shoot or miss, and receiving your package from China takes weeks to months. If you want to get your presents in before Christmas, you must plan.
PDD Profits Offsetting Temu Losses
As for the business side, Temu.com may still hemorrhage money from $500 million to $900 million in 2023, but PDD's profits are more than offsetting losses. PDD generated revenues of $5.48 billion in Q1 2023, up 58% from the year-ago period. Net income rose 212% to $1.23 billion. PDD has $22.9 billion in cash and cash equivalents at the end of the quarter.
PDD Inc. analyst ratings and stock price targets are at MarketBeat.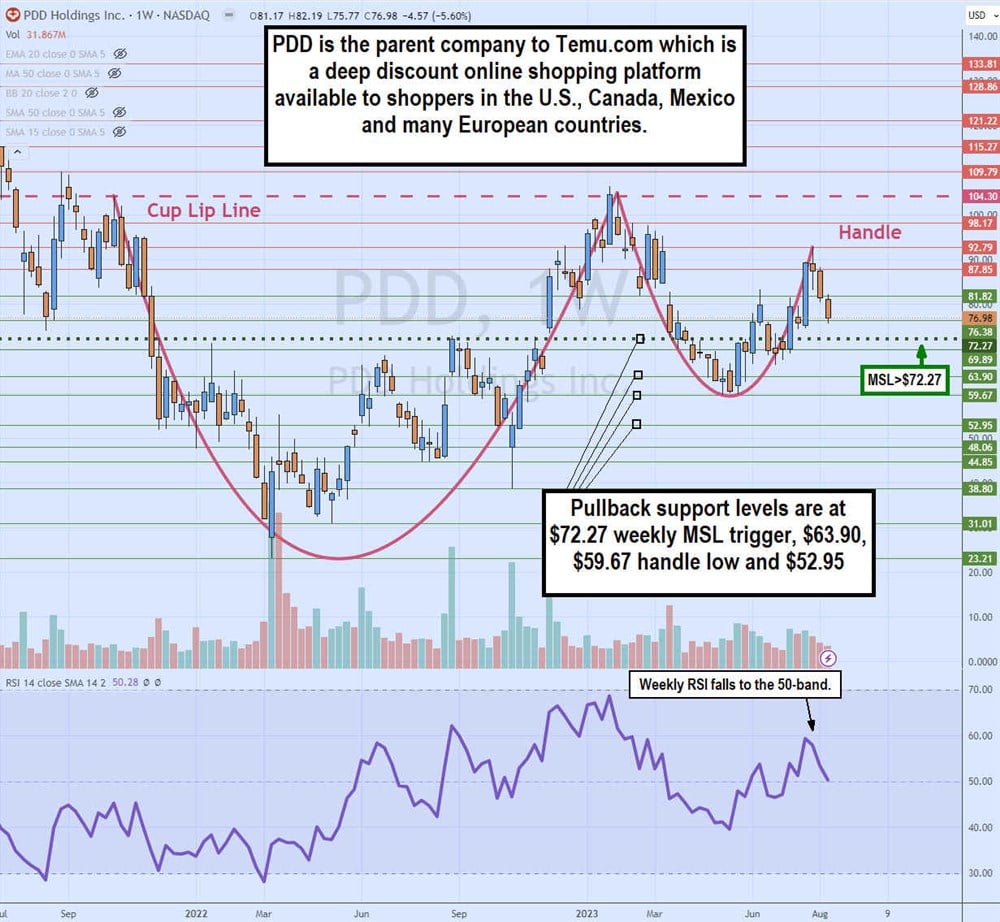 Weekly Cup and Handle Pattern
The weekly candlestick chart for PDD shows the cup and handle pattern yet to break out. The cup lip line at $104.30 was tested and rejected in January 2023. PDD took an extended selloff to $59.67 in May 2023 before triggering the weekly market structure low (MSL) breakout through the $72.27 trigger to form the handle.
The weekly relative strength index (RSI) coiled back up from the 40-band, but the handle peaked out early at $92.79. PDD will either break down through the handle low or complete its cup and handle on a breakout through the lip line. Pullback supports are $72.27 weekly MSL trigger, $63.90, $59.67 handle low and $52.95.
Mattel has transformed itself from a toy company into a vertically integrated family entertainment organization. The company owns a valuable portfolio of well-known toy franchises, from Barbie and Hot Wheels to Thomas & Friends, American Girl, UNO, MEGA Brands and Fisher-Price. The company had a surprise shake-up when Mattel President and COO  Richard Dickson abruptly resigned to become CEO of Gap Inc. (NYSE: GPS). This unexpected sequence of events stoked panic selling, with investors believing that may have been accounting irregularities, but nothing materialized as the fear subsided.
Barbie Breaks Records
Its live motion picture "Barbie" has generated over $537 million in U.S. box office receipts and $1.2 billion in global box office in its first month of release on July 21, 2023. In fact, "Barbie" is Warner Bros. Discovery Inc. (NYSE: WBD) highest-grossing domestic movie ever. Exposure to the Mattel cinematic universe could stimulate demand for all its popular franchises this holiday season.
Working Through Inventory Issues
The weak holiday season 2022 caused an inventory buildup that the company has been working through. High inventory levels at the start of 2023 have been improving through Q2 2023, falling below Q2 2022 levels in dollars decreased.
Healthy Earnings Beat
Mattel reported its Q2 2023 earnings on July 26, 2023. The company earned 10 cents per share, beating consensus analyst estimates for a loss of 3 cents by 13 cents. Revenues fell 12.1% YoY to $1.09 billion, beating consensus analyst estimates of $1 billion. The company expects full-year 2023 EPS of $1.10 to $1.20 versus $1.16 consensus analyst estimates. Full-year 2023 comparable revenues are expected between $5.435 billion to $5.45 billion.
Mattel analyst ratings and stock price targets are at MarketBeat.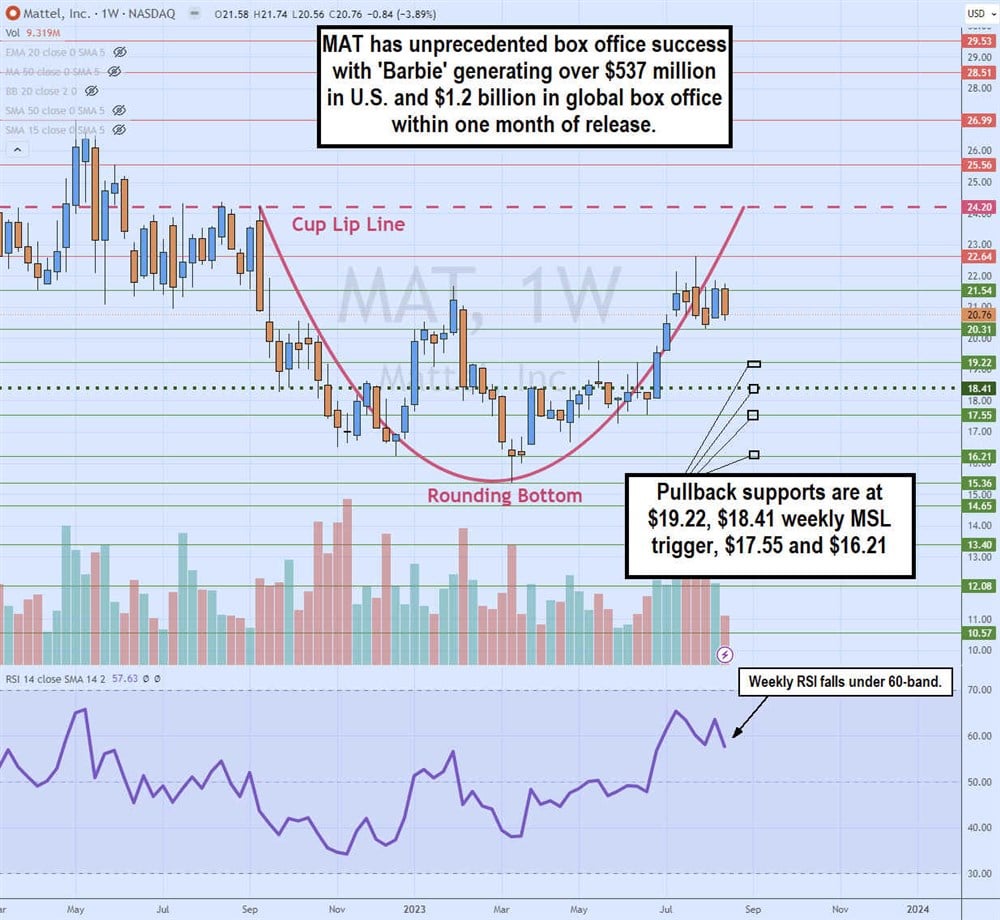 Weekly Rounding Bottom
MAT formed a rounding bottom on its weekly candlestick chart. It's still below the $24.20 weekly cup lip line if it's to complete the cup and start to form a handle. The cup lip line commenced in September 2022 as shares fell to a low of $15.36 by March 2023.
The breakout through the weekly market structure low (MSL) trigger at $18.41 helped push shares back up towards the cup lip line, initially peaked at $22.64. The weekly relative strength index (RSI) oscillator peaked around the 65-band and is testing the 60-band turning down. Pullback supports are at $19.22, $18.41 weekly MSL trigger, $17.55 and $16.21.