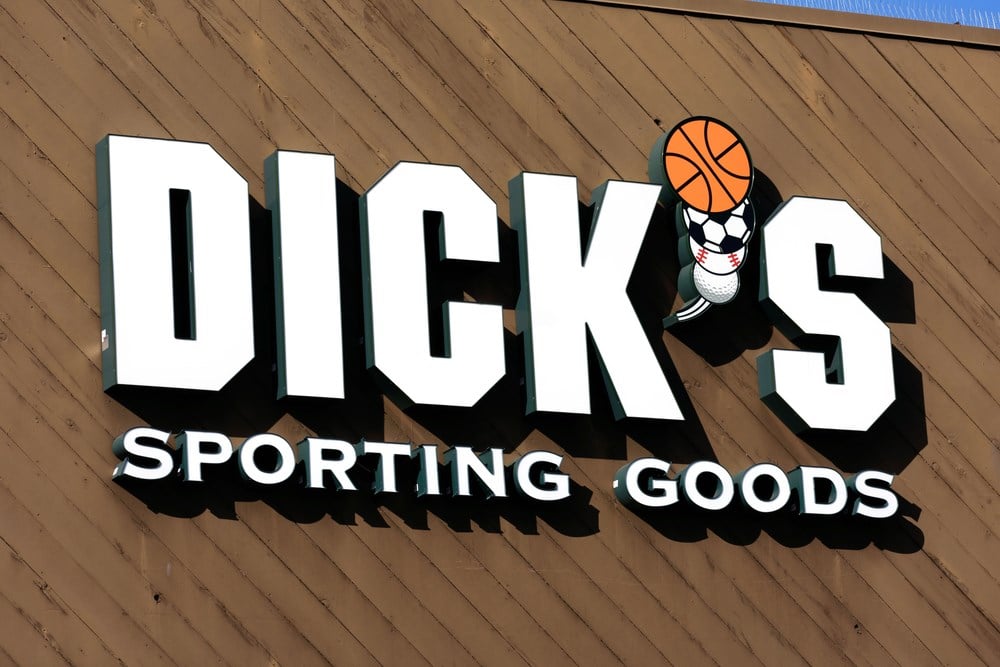 Organized theft is flipping more than product displays at DICK'S Sporting Goods, Inc. (NYSE: DKS). 
The athletic apparel and equipment retailer's shares were turned upside down last week after it announced disappointing second-quarter financials. With Wall Street anticipating a slight year-over-year improvement in profitability, Dick's reported a 23% earning per share (EPS) drop and lowered its full-year outlook. The company's stock price fell as much as $40 by August 23, erasing $3.5 billion from its valuation before a late-week relief rally.
Dick's Q2 update revealed just how devastating "inventory shrink" has become to the retail industry. With organized crime impacting a wide range of national retailers from Walmart and Target to Home Depot and Macy's, rising theft is more than a sad anecdote on a desperate subset of American society. 
At Dick's, rash crime sprees are taking a big bite out of profits and creating a need to devise more effective inventory shrink management. This will likely involve heavy investments in security personnel and technology aimed at deterring theft. Store layouts may also be reconfigured and fewer high-value products put on displays to limit losses. These efforts will entail higher costs, adding extra pressure to already thin retail margins.
Unfortunately, the inventory shrink issue probably won't go away overnight. But as new measures are implemented, and the number and magnitude of incidents lessen, this will (hopefully) fade into a temporary phenomenon. As it does, the market will gradually be reminded of Dick's growth prospects, shareholder-friendly moves and undervalued stock.
#1 - House of Sports, Next-Gen Stores Are Coming
Lost in the Q2 mix is the fact that sales grew 3.6% and same-store sales 1.8% in a challenging economic environment. The latter wasn't simply the result of price hikes but rather increases in transactions and market share. This reflects Dick's brand strength and ability to outperform the competition despite there being more sporting goods players in the game.
The company's next brick-and-mortar expansion is geared towards complementing its core Dick's Sporting Goods, Golf Galaxy and other specialty stores. The 'House of Sports' concept is a glimpse into the future of retail. The interactive sports experience is going beyond Dick's signature climbing wall to offer a range of sports activities and more prominent product presentations that will make it a destination rather than a traditional store. Dick's ramped from three to ten House of Sports in Q2 and plans to open up to 100 locations by 2027. 
In conjunction with the House of Sports idea, sprawling 50,000 square foot 'next-gen' stores are being built to give shoppers a more comprehensive product assortment and premium experiences. Three next-gen stores are open, and eight more are slated to open by year end. Executive Chairman Ed Stack thinks the new formats can generate Dick's best growth since the high growth period that followed its 2002 IPO. 
#2 - Financial Flexibility Supports Dividends and Buybacks
Dick's rock-solid balance sheet makes it one of the most fundamentally fit retail stocks. As of July 29, it contained a $1.9 billion cash position and $1.5 billion in debt, the latter of which is 20% below where it was the year prior. As it enters a new phase of store expansion, having a strong cash balance and manageable debt load will make it easier to achieve growth. 
At the same time, balance sheet flexibility will enable Dick's to continue to reward shareholders with dividends and share repurchases. Having raised its dividend for nine straight years, the company is an up-and-coming dividend grower with lots of room for further growth. 
Due to the post-earnings drop, the stock now has a 3.6% yield, nearly twice the average consumer discretionary stock offers. And given the track record of buybacks, it won't be surprising to see new buybacks prop up the oversold DKS.  
#3 - The Valuation Is a Steal
An economically sensitive cyclical business, Dick's is no stranger to sharp downturns. The stock plunged nearly 60% from September 2021 to May 2022 amid tough year-over-year comparisons, inflation and rising rates. Less than a year later, it was up 140% and trading at an all-time high. If the retailer can recover from that concoction of macro headwinds, rebounding from a period of elevated theft should be relatively easy — especially given the low valuation.
DKS shares are trading at 9.5x trailing 12 months earnings, an 18% discount to their five-year historical average. Academy Sports & Outdoors stock is cheaper at 7x, but Dick's has a superior market position, growth outlook and dividend. 
Bonus #4 - Timely Insider Buying
Dick's board member Sandeep Mathrani was quick to pounce on the selloff. On August 24, the former WeWork CEO bought 1,300 DKS shares at an average price of $113.54 to bring his total stake to nearly 10,000 shares.