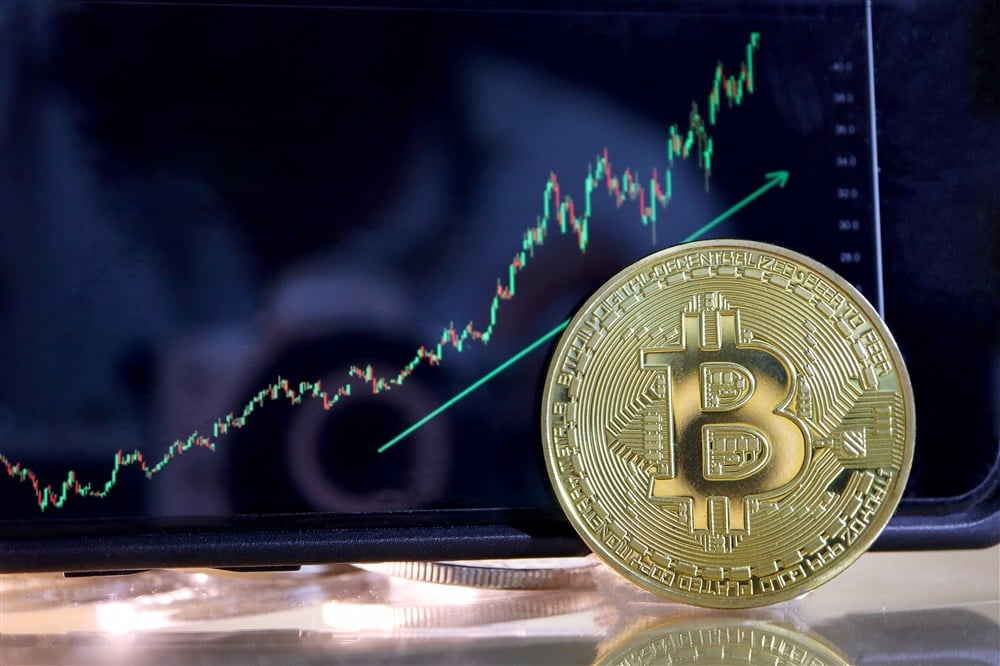 Bitcoin surged almost 8% on Tuesday as Grayscale Investments (OTC: GBTC) secured a victory in its legal dispute against the Securities and Exchange Commission (SEC) at the DC Circuit Court of Appeals. Following its lawsuit against the SEC in June 2022, where the regulator prevented Grayscale from converting its Bitcoin Trust (GBTC) into an ETF, the court has ruled in favor of Grayscale. 
The company's argument was centered around the inconsistency in the SEC's approval of ETFs tied to bitcoin futures contracts while blocking similar products directly holding bitcoin. The court's decision entails that the SEC must reevaluate Grayscale's previously denied application for conversion.
As a result of the victory, a large wave of buying entered the market for Bitcoin stocks, with several popular names closing the day near highs after experiencing impressive volume. 
Three Bitcoin Stocks To Watch 
Marathon Digital (NASDAQ: MARA)
MARA is a Las Vegas-based digital asset technology company. The company specializes in blockchain-based mining and produces digital assets such as Bitcoin. Shareholders of the digital asset tech company will be ecstatic as the stock is up 300% year-to-date. Yesterday's news sent shares of MARA surging, closing the day up almost 29%.
Analysts see the stock's current price as fair value, with an average price target of $13.67. Based on seven analyst ratings, four have the stock at Hold and Three as a Buy. Institutional ownership in the stock has increased by $97 million in the last 12 months, bringing the current institutional ownership to 39.02%. There has been a slight positive change to insider ownership in the previous 12 months, with three insiders purchasing stock for $429,000. The current insider ownership for MARA is 0.58%.
Riot Platforms (NASDAQ: RIOT)
RIOT is a U.S. blockchain technology company that strives to be the premier provider of Bitcoin mining services in North America. The company offers cryptocurrency mining hardware, hosting services, and proprietary software. Like Mara, shares of RIOT have impressed this year, up 263%. Yesterday's breaking news saw the stock surge 17.25% and break above a critical short-term resistance level at $12.
Unlike MARA, analysts see a significant upside for RIOT with a current rating of Moderate Buy and a consensus price target of $16.55, implying a 34.52% upside. Eight of the nine analyst ratings have RIOT at Buy and one at Hold. Over the last 12 months, RIOT has seen net institutional inflows of $95 million, bringing institutional ownership to 37.36%. During the same period, insider ownership decreased to 5.66% after $12.13 million of insider selling.
ProShares Bitcoin Strategy ETF (NYSE: BITO)
For those seeking exposure to the industry with a more conservative approach, BITO might be most favorable. BITO is an exchange-traded fund primarily investing in long Bitcoin and short USD currency. The fund actively manages a portfolio of front-month CME bitcoin futures. The fund currently has about $940 million in assets under management and offers a dividend yield of 17.21%, with a net expense ratio of 0.95%. Year-to-date, shares of BITO are up over 37%. Yesterday's news saw the stock surge almost three times its average true range (ATR) to close the day up 7.26%.