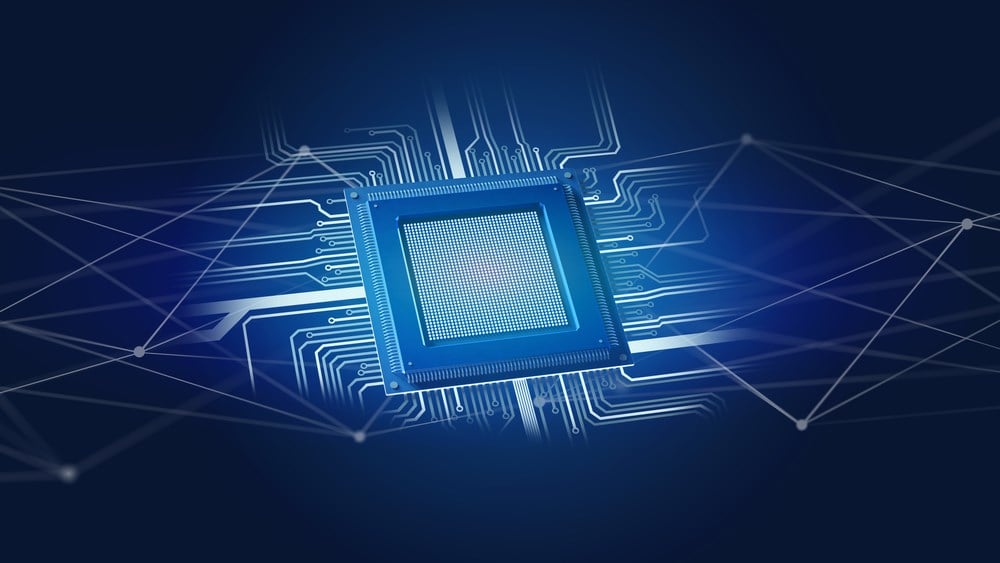 Semiconductor stocks have struggled over the past few months and present an opportunity for traders as the Q3 earnings season approaches. Many of these stocks have been beaten down hard and are oversold, presenting an above-average opportunity for a rebound. 
Oversold conditions exist when a stock has trended lower and is confirmed by a secondary indicator. In this case, stochastic is the indicator, nuanced by MACD and RSI. The caveat for traders and investors is that sometimes oversold conditions exist for a fundamental reason and can persist indefinitely. However, when bullish catalysts are present, the answer to the question about rebounding is more often about when than if. 
The Bar is Set Low for Texas Instruments
Texas Instruments Incorporated (NASDAQ: TXN) is set to report earnings soonest, with a slated date in mid-October. The stock is down nearly 10% from the 2023 high, corresponding to the top of a trading range. The market is approaching the bottom of the range and may produce a rebound. The potential for a rebound is indicated by the deeply oversold conditions shown by the stochastic oscillator. 
Analysts' sentiment, institutional buying, and the low bar set for Q3 are among the potential catalysts. Nearly all of the analysts' revisions have been downward since the last report, and expect a YOY decline and mixed results sequentially. Despite this, analysts continue to Hold the stock and see it increasing at least 15%. The recent price target activity is mixed but aligns with the consensus, which may firm given a solid report in October. Institutions own 84% of the stock and have bought on balance for 3 quarters.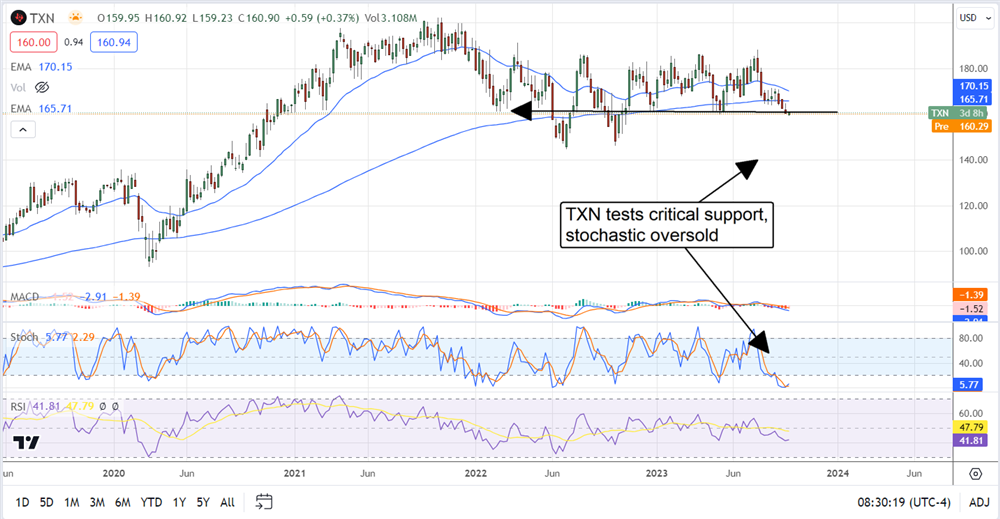 Advanced Micro Devices Has Several Tailwinds
Advanced Micro Devices (NASDAQ: AMD) has several tailwinds, including an expected return to growth, retail investor sentiment, analyst sentiment, and the institutions. The stock is ranked #6 on Marketbeat's Most Followed stocks list for the preceding week and #13 over the past 30 days. This is in addition to the 30 analysts who rate it a Moderate Buy and have raised their price targets. The consensus target is flat compared to last month but 39% above recent price action and up vs. last quarter and last year.
AMD's bar is set low; 26 analysts have lowered their EPS and/or revenue target over the last 90 days. This has the company set up to outperform in addition to growing compared to last quarter and last year. Regarding the institutions, they own about 68% of the stock and have bought it on balance for 9 consecutive quarters.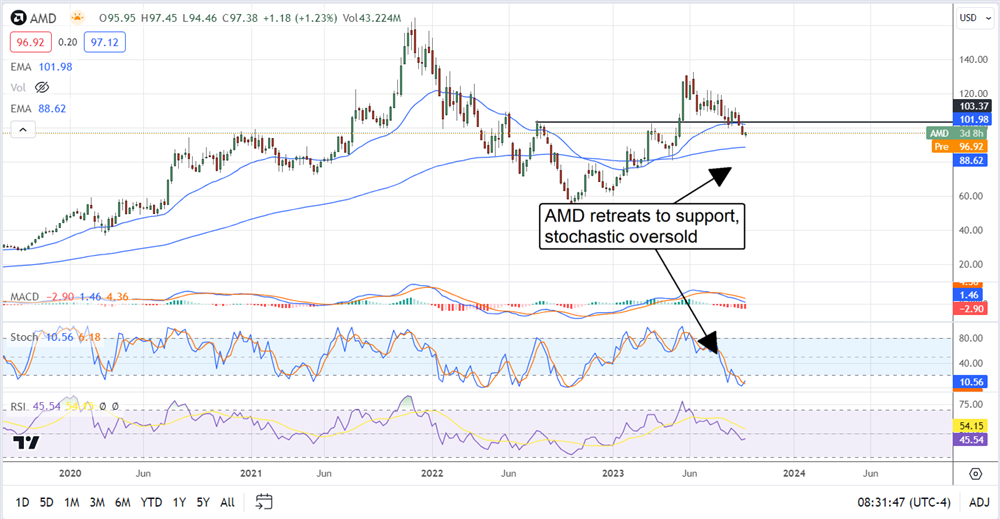 Qualcomm Revenue to Decline 
Qualcomm (NASDAQ: QCOM) analysts expect its revenue to decline compared to last year. Despite this, they rate the stock a Moderate Buy and see it moving nearly 30% higher than the recent price action. The recent analysts' activity is mixed, including a downgrade to Hold and some lowered price targets, but it aligns with the consensus figures, which are up YOY and steady in the near term. 
Qualcomm reports earnings on November 1st, the same day as Advanced Micro Devices, and may have a tough time beating consensus. The analysts' revisions to EPS and revenue targets are mixed, but more have increased than lowered. Qualcomm is 1 of Marketbeat's Most Followed Stocks, and institutions, which own about 71% of the stock, have bought for 4 consecutive quarters.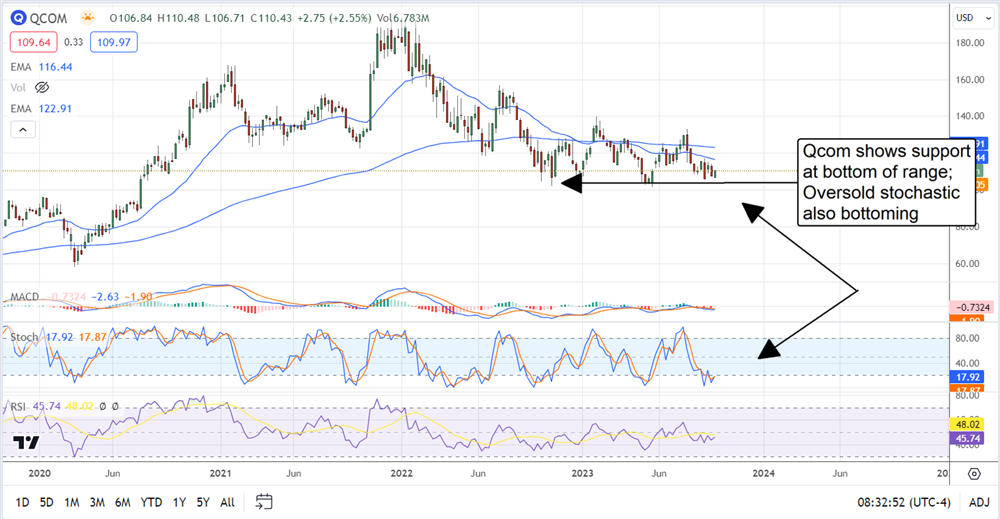 Ambarella: Computer Vision is Coming
Ambarella (NASDAQ: AMBA) is among Marketbeat's Most Downgraded Stocks, but take that with a grain of salt. The 19 analysts tracked by Marketbeat have lowered their targets for the stock but still rate it at Moderate Buy with a price target 60% above the current action. That target is trending lower, but even the low price target implies a double-digit upside for this oversold stock.
Ambarella reports in mid-November and is expected to post the lowest revenue since 2020. All analysts are lowering their targets, so the bar is set low. Regarding institutions, they've bought this stock for more than 13 consecutive quarters. Recent activity includes a large purchase by Point72 Asset Management, which now owns more than 3.5% of the shares.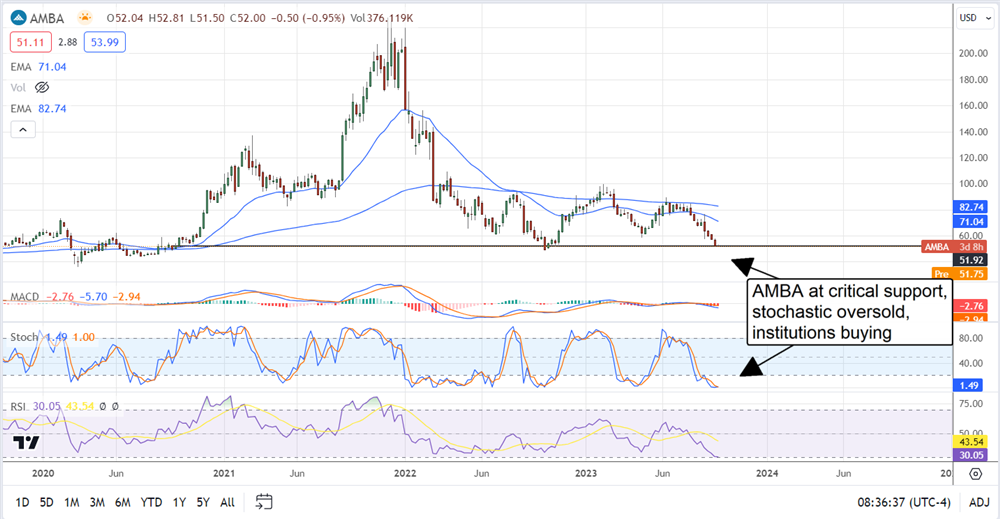 Marvell Technology is a Top-Rated Stock 
Marvell Technology (NASDAQ: MRVL) is among Marketbeat's Top-Rated Stocks, with 21 analysts rating it a Moderate Buy with a price target nearly 30% above recent action. The recent analysts' activity is mostly bullish, and all revisions include a price target above the consensus. Institutions own over 80% of the stock and have bought on balance for 3 quarters, with purchases ramping sequentially. Analysts expect mixed results for Q3, with YOY results down and sequential up.