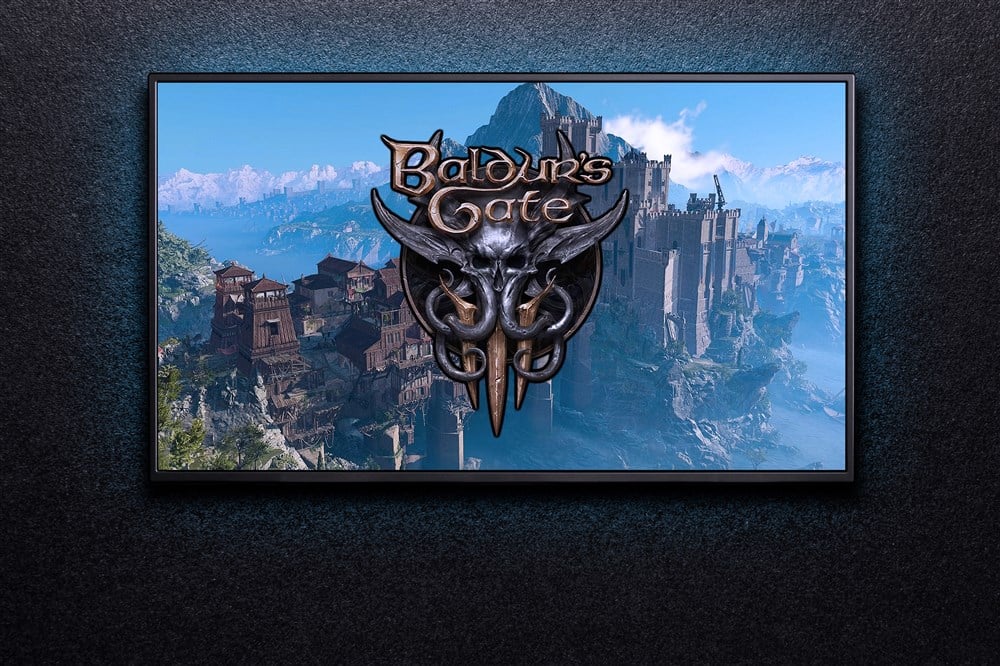 Entertainment giant Hasbro Inc. (NYSE: HAS) has transformed itself from a toy maker to a vertically integrated family entertainment enterprise. It's following in Mattel Inc.'s (NYSE: MAT) footsteps in monetizing its IPs. The company is well known for owning iconic toy brands like Monopoly, Twister, Nerf, and Furby and IPs like the Transformers, G.I. Joe, Power Rangers, Dungeons & Dragons and Magic the Gathering. 
Hasbro is selling its eOne entertainment division to Lionsgate Entertainment Co. (NYSE: LGF.A) for $500 million. Shares have recently been recovering, driven by the wild success of Baldur's Gate 3 video game roughly three months after the wildly successful Diablo IV release from Activision Blizzard Inc. (NASDAQ: ATVI). While Diablo IV online traffic has dropped off an estimated 80% since its release, Baldur's Gate 3 is expected to dominate the genre for some time. In fact, Hasbro's CEO has stated that it expects to make more money from Baldur's Gate 3 than all its films in the past decade "combined."
Diablo IV vs. Baldur's Gate 3
Investors' access to the specific numbers for Diablo IV is limited to what Activision discloses. The company disclosed sales of $666 million in the first five days of release on June 6, 2023, making it the fastest-selling game in Blizzard's history. Blizzard is a subsidiary of Activision, makers of Warcraft. However, many credible traffic monitoring services have speculated that online activity dropped from 870k concurrent online users to under 100k in the three months since launch. Baldur's Gate 3 has sold 5.2 million copies in early access ahead of its September 6, 2023, console launch day.
Activision vs. Hasbro
There is a key distinction between Activision and Hasbro. Activision is a video game publisher that is being acquired by Microsoft Co. (NASDAQ: MSFT) after a lengthy one-year regulatory hurdle. Hasbro is a toy maker and entertainment company that licenses its IP for royalties. Baldur's Gate 3 was developed by Larian Studios after more than a decade of development hell circulated through different studios. Baldur's Gate 3 is based on Hasbro's Dungeons & Dragons gameplay. Many argue that Diablo IV's action role-playing game (ARPG) release helped prime gamers and excited them for the release of Baldur's Gate 3 three months later. The momentum in the RPG genre was reignited and introduced to the mainstream thanks to Diablo IV and spread to Baldur's Gate 3.
Limp Earnings
On August 3, 2023, Hasbro reported its Q2 2023 earnings of 49 cents per share, missing analyst estimates for 56 cents per share by 7 cents. Revenues also fell 9.6% YoY to $1.21 billion, beating $1.11 billion analyst estimates. 
eOne Entertainment Sold to Lion's Gate
In its earnings report, Hasbro also announced it would sell its eOne film and TV business to Lionsgate for $500 million, comprised of $373 million cash and assumption of production financing loans. Hasbro will use the proceeds to retire at least $400 million floating-rate debt by year-end. The deal is expected to close by the end of 2023. It includes selling its content library of 6,500 titles, employees, and active productions for non-Hasbro IP, including shows The Rookie, Yellowjackets and the Naked and Afraid shows, as well as its unscripted business. Hasbro plans to continue developing and producing its owned brands.
Setting the Bar Low Balling
Hasbro may have undersold its prospects as it provided downside guidance for full-year 2023 revenues to fall 3% to 6% or $5.51 billion to $5.56 billion. While the Consumer Products segment outlook is unchanged, it did improve its Wizards of the Coast and Digital Gaming segment. Due to the ongoing WGA and SAG-AFTRA strikes, it expects entertainment revenues to fall 25% to 30%. The company reaffirmed its adjusted EBITDA guidance of flat with 2022 EBITDA. Operating cash flow is expected to be between $600 million to $700 million.
Analyst Upgrades
Analysts have noticed Hasbro's momentum and have been active in ratings upgrades. Bank of America reiterated its Buy rating and raised its price target to $90 per share, up from $85. On August 29, 2023, Stifel reiterated its Buy rating on Hasbro and upped its price target to $94 from $79.
Hasbro analyst ratings and price targets are at MarketBeat.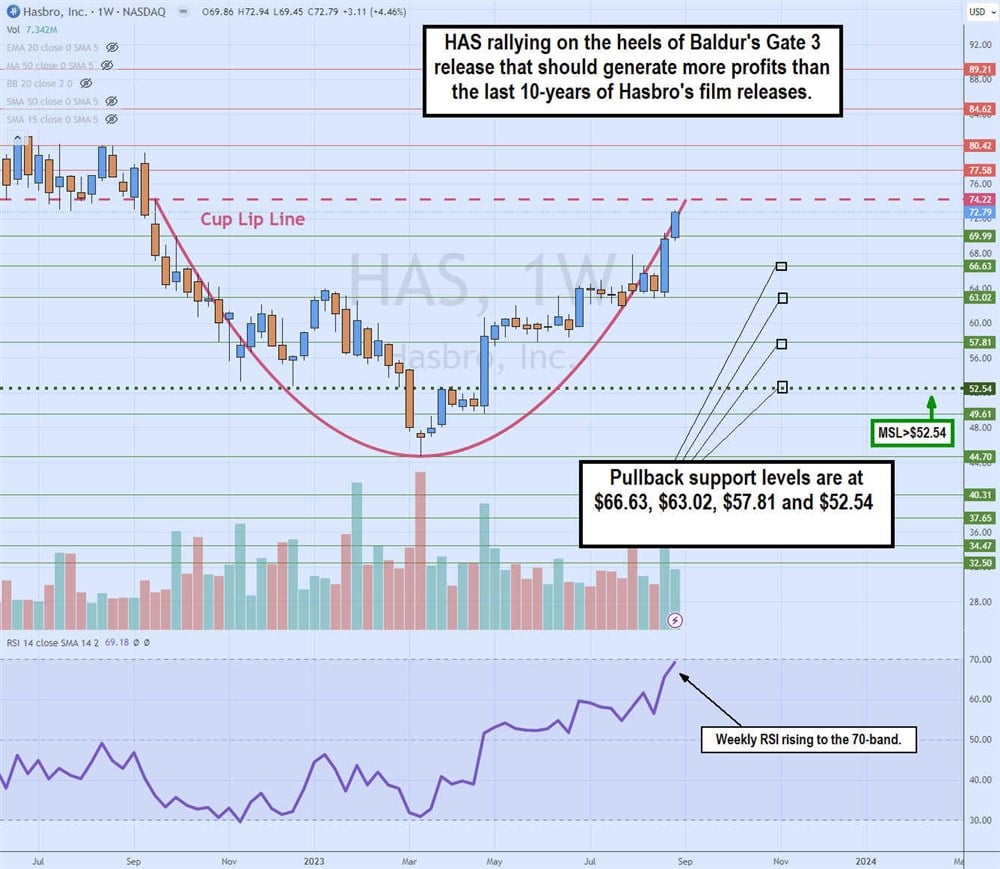 Weekly Cup Formation  
HAS completed a cup pattern on the weekly candlestick chart. Despite weak earnings and lowered guidance, HAS shares have been rallying back towards the cup completion as it nears the $74.22 cup lip line. The market is pricing the gains from its royalties from the Baldur's Gate 3 release. HAS triggered a market structure low (MSL) breakout on the $52.54 trigger in April 2023 and has been grinding higher ever since. The weekly relative strength index (RSI) has been climbing in a choppy manner to the 70-band overbought level. Pullback support areas are $66.63, $63.02, $57.81 and $52.54.