--News Direct--
Cyvatar today announced the release of the CydeHustle, a customer referral program that helps everyday people earn extra money on the side by referring organizations in their network to Cyvatar.
The CydeHustle is easy work you can do in your spare time. In just a few minutes, you can not only bring in more money for yourself, but you can also enable people from all walks of life to help tip the cyber scales in favor of the good guys by stopping threat actors from breaching the brands and businesses we love.
Organizations face more than 100,000 malicious websites and 10,000 malicious files every single day. Last year, malware increased by 358% and ransomware by 435% -- in fact, ransomware alone is now a multibillion-dollar industry staffed with expert researchers, strategists, technologists, and front-line hackers. Cyvatar's ground-breaking cybersecurity as a service (CSaaS) levels the playing field so that any organization regardless of size or budget can combat threat actors. Joining the CydeHustle means you can enjoy the rewarding experience of keeping the businesses in your network safe... and get paid for it.
"The Cyvatar CydeHustle program is a no-brainer, and the corresponding partner portal makes it easy to earn money on the side," said CydeHustler Chris W. "Just as much as Cyvatar simplifies cybersecurity management for customers, it's absolute simplicity to earn easy commissions with Cyvatar, even while juggling a full-time position and family responsibilities. Now anyone can be a deal-making machine!"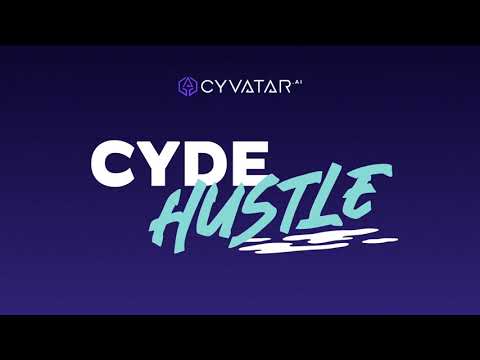 Every CydeHustle referral that becomes a sale earns money for the person who introduces them: 20% of the sale price when the contract is signed, 10% of any upgrades purchased in the first year, and an additional 5% each year the referral renews. It's easy money. Everybody needs better security, and Cyvatar's CSaaS enables organizations to get better security outcomes fast.
"The CydeHustle is so easy and so lucrative that we've already paid hundreds of thousands of dollars to CydeHustlers," said Edward Preston, vice president of sales at Cyvatar. "Partners get paid for referring companies in their networks, those businesses get a game-changing cybersecurity program, and our world becomes safer from the onslaught of cyber threats."
Importantly, Cyvatar CSaaS is both accessible and affordable: For as little as $20 a month, customers receive out-of-the-box cybersecurity that includes products and services, a platform to manage them, and an expert team to support them -- all for one fixed monthly price. What's more, Cyvatar sells itself -- it's one of the 50 Most Trustworthy Companies recognized by the Silicon Review and has won 20 awards for cybersecurity innovation and excellence.
CydeHustlers can keep their day jobs or Hustle between classes, after work, or from the far reaches of the world, because the Hustle is real -- and risk-free. Cyvatar keeps individual participation completely private unless participants explicitly choose to share their activity publicly.
So what are you waiting for? Make a difference. Make an introduction. Make the world a safer place by keeping threat actors away from the businesses you know and love. All you have to do is sign up. Share the Cyvatar story. And get paid. Sign up and start earning today!
About Cyvatar
Cyvatar is committed to effortless cybersecurity for everyone. As the industry's first subscription-based, cybersecurity-as-a-service (CSaaS) company, it's our mission to transform the way the security industry builds, sells, and supports cyber solutions. We empower our members to achieve successful outcomes by providing expert advisors, proven technologies, and a strategic process roadmap to guarantee results that map to their business drivers. Our approach is rooted in proprietary ICARM (installation, configuration, assessment, remediation, maintenance) methodology that delivers smarter, measurable security solutions for superior compliance and cyber-attack protection faster and more efficiently, all at a fixed monthly price. And because we're a subscription, members can cancel anytime. Cyvatar is headquartered in Irvine, California with locations around the world. Begin your journey to security confidence at cyvatar.ai and follow us on LinkedIn and Twitter.
Contact Details
Cyvatar
KC Higgins
+1 303-434-8163
Company Website
View source version on newsdirect.com: https://newsdirect.com/news/cyvatar-launches-first-ever-cybersecurity-side-hustle-682034388