--News Direct--
By Johnny Rice, Benzinga
James Sullivan, VP of Strategy & Compliance and CLO of BIO-Key International, Inc. (NASDAQ: BKYI), was recently interviewed by Benzinga.
The company is a trusted provider of Identity and Access Management (IAM) and Identity-Bound Biometric (IBB) solutions that offer an easy and secure way to authenticate the identity of employees, customers and suppliers while managing their access across devices and applications.
Learn more here: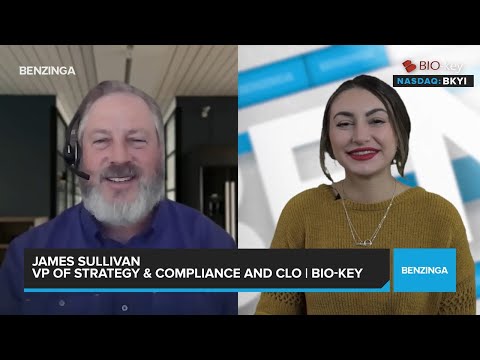 This article was originally published on Benzinga here.
BIO-key is revolutionizing authentication and cybersecurity with biometric-centric, multi-factor identity and access management (IAM) software managing millions of users. Its cloud-based PortalGuard IAM solution provides cost-effective, easy to deploy, convenient and secure access to devices, information, applications, and high-value transactions. BIO-key's patented software and hardware solutions, with industry-leading Identity-Bound Biometric (IBB) capabilities, enable large-scale Identity-as-a-Service (IDaaS) solutions, as well as customized on premises solutions.
This post contains sponsored advertising content. This content is for informational purposes only and is not intended to be investing advice.
Contact Details
Catalyst IR- William Jones, David Collins
+1 212-924-9800
Company Website
View source version on newsdirect.com: https://newsdirect.com/news/bio-key-this-innovative-security-company-is-leading-the-charge-for-identity-based-biometrics-ibb-196026053