--News Direct--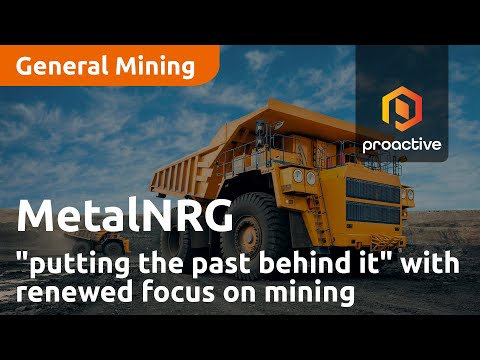 MetalNRG PLC (LSE:MNRG) Executive Director Rolf Gerritsen speaks to Thomas Warner following a flurry of announcements from the natural resources investing company, which he suggests amount to MetalNRG "putting the past behind [it]."
The company has this week published not only a half-year report but also an update on its strategic business review, after a "very rough patch" for the business. Gerritsen says that senior management have been focusing in recent months on determining where the best growth opportunities are likely to come from, and have concluded that mining is the answer.
He says "there are huge opportunities in projects that are currently in production that offer huge potential in terms of exploration upside, that are seriously undervalued." He goes on to reveal what he considers it necessary for the company to achieve over the next 6-12 months, highlighting an increase in the share price "backed by some very strong fundamental projects to be brought into the company so that [we] can start building up that trajectory that we're planning on."
Contact Details
Proactive UK Ltd
+44 20 7989 0813
View source version on newsdirect.com: https://newsdirect.com/news/metalnrg-putting-the-past-behind-it-with-renewed-focus-on-mining-568541099