--News Direct--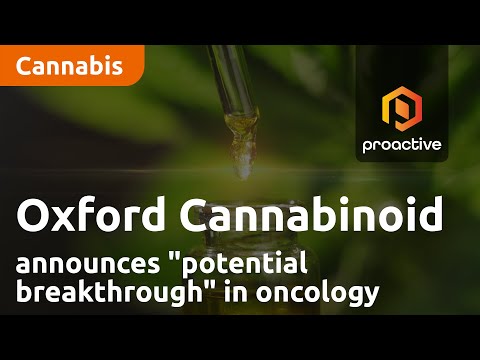 Oxford Cannabinoid Technologies Holdings PLC (LSE:OCTP, OTCQB:OCTHF) Clarissa Sowemimo-Coker speaks to Thomas Warner from Proactive London after announcing what the prescription cannabinoid medicine company calls a "potential breakthrough" for the treatment of solid tumours.
Sowemimo-Coker gives an overview of the announcements, highlighting promising early-stage data, promising, and says Oxford Cannabinoid Technologies is aiming to provide a convenient oral dose form for patients, significantly reducing costs and improving accessibility. The expansion into oncology aligns with OCT's strategy to explore various realms of medicine beyond their initial focus on pain.
Sowemimo-Coker says that the company's collaboration agreement with Canopy Growth has already borne fruit, with more potential derivatives waiting to be explored. She also touches on the recent appointment of Dr. Tim Corn as Chief Medical Officer, with a view to advancing clinical trials and overall progress, and concludes by saying that an investor meeting is being held later this week.
Contact Details
Proactive UK Ltd
+44 20 7989 0813
View source version on newsdirect.com: https://newsdirect.com/news/oxford-cannabinoid-technologies-announces-potential-breakthrough-in-field-of-oncology-366070952