--News Direct--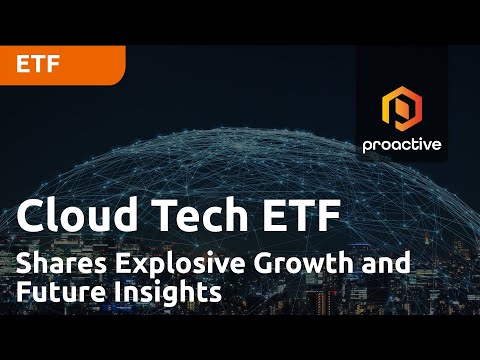 Anthony Ginsberg, CEO of GINSGLOBAL Index Fund joined Steve Darling from Proactive to reflect on the remarkable journey of the Cloud Technology ETF, which was launched in 2018.
Over the past five years, cloud technology adoption has skyrocketed, especially accelerated by the COVID-19 pandemic and remote work trends. Initially, cloud technology was embraced by startups and SMEs, but it's now a cornerstone for large enterprises, including banks, insurers, and governments.
This evolution has significantly reshaped the landscape, with major players like Amazon, Microsoft, and Google benefiting. The pandemic expedited the adoption of hybrid and multi-cloud solutions, reducing risk for large corporations. IBM's acquisition of Red Hat was a pivotal moment, enabling multinational organizations to diversify their cloud providers.
Cloud technology now encompasses diverse industries, from social media and gaming to electric vehicles, even intersecting with AI, primarily driven by NVIDIA chips.
In terms of performance, the ETF has experienced remarkable growth, with a year-to-date increase of up to 30%. Overall, since its inception, it has seen a gain of around 44%, though there were some challenges due to factors like inflation and market fluctuations.
Looking ahead, Ginsberg anticipates continued M&A activity in the cloud and cybersecurity sectors. As AI becomes increasingly intertwined with cloud technology, it's likely that AI firms may also venture into the cloud space. The cloud industry is poised for substantial growth, potentially tripling in size over the next five to six years.
Contact Details
Proactive Investors
+1 347-449-0879
na-editorial@proactiveinvestors.com
View source version on newsdirect.com: https://newsdirect.com/news/cloud-tech-etfs-5-year-journey-ceo-anthony-ginsberg-shares-explosive-growth-and-future-insights-237344122