--News Direct--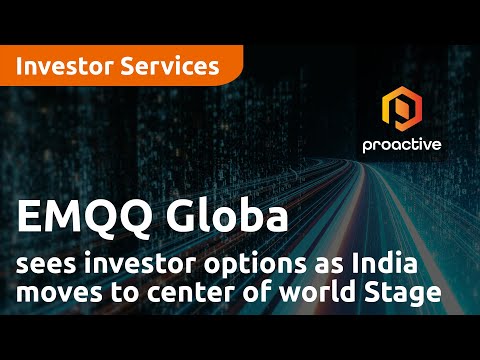 EMQQ Global founder and chief investment officer Kevin Carter joined Steve Darling from Proactive to discuss a new report on India, which he describes as the "perfect emerging market at the perfect time."
The report delves into India's economic growth and draws comparisons with China's growth trajectory, highlighting several key factors that make India an attractive investment destination. One standout feature of India is its well-established homegrown technology sector, which dates back several decades. Companies like Tata Computer Systems (founded in 1968) and Infosys (founded in 1981) have been at the forefront of this technological evolution.
Furthermore, India annually produces the world's largest number of computer science engineering graduates, and the country's Indian Institutes of Technology, with 23 locations, consistently churn out a significant number of computer science graduates.
Carter also emphasized the significance of "The Indian Stack," a term used to describe India's "Digital Public Infrastructure." Starting in 2010, India has been systematically developing crucial public technology platforms that have enabled rapid digitization. A key milestone was the introduction of the Unified Payments Interface in 2016, which has since driven substantial growth in mobile payments in India, experiencing a 40-fold increase in the past five years.
This robust and well-planned digital public infrastructure sets India apart and positions it for sustained technological advancement. In essence, India's unique combination of factors, including a well-established tech sector, a highly skilled workforce, and a visionary digital infrastructure, makes it a compelling emerging market that investors are increasingly turning their attention to.
This comprehensive report provides valuable insights into India's growth story and its potential to follow in the footsteps of China's remarkable economic ascent.
Contact Details
Proactive Investors
+1 347-449-0879
na-editorial@proactiveinvestors.com
View source version on newsdirect.com: https://newsdirect.com/news/emqq-global-sees-investor-opportunities-as-india-moves-to-center-of-world-stage-791465915