--News Direct--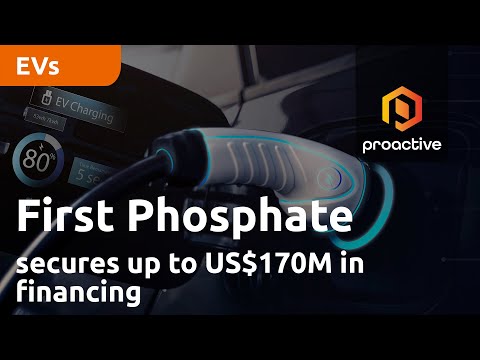 First Phosphate Corp CEO John Passalacqua joined Steve Darling from Proactive to share significant news regarding the company's agreement with the Export-Import Bank of the United States (EXIM) for potential financing.
Passalacqua announced that First Phosphate Corp has received a Letter of Interest (LOI) from EXIM to provide financing of up to US$170 million. This financing is intended to support the procurement of US goods and services by First Phosphate in Canada and is eligible for a maximum repayment term of 10 years. The LOI is valid until October 14, 2024.
He further explained that EXIM has a mandate to mitigate the competitive impact of export support provided by countries like the People's Republic of China for opportunities like the one presented by First Phosphate. The company is dedicated to creating a strategic purified phosphoric acid reserve to support the development of the lithium iron phosphate battery industry in North America.
First Phosphate Corp holds over 1,500 square kilometres of royalty-free district-scale land claims in the Saguenay–Lac-St-Jean Region of Quebec, actively advancing its projects to contribute to the growth of sustainable energy solutions in the region and beyond. This agreement with EXIM represents a significant step toward achieving its goals.
Contact Details
Proactive Investors Canada
+1 604-688-8158
na-editorial@proactiveinvestors.com
View source version on newsdirect.com: https://newsdirect.com/news/first-phosphate-secures-up-to-us-170m-in-financing-from-export-import-bank-of-the-united-states-492286422