--News Direct--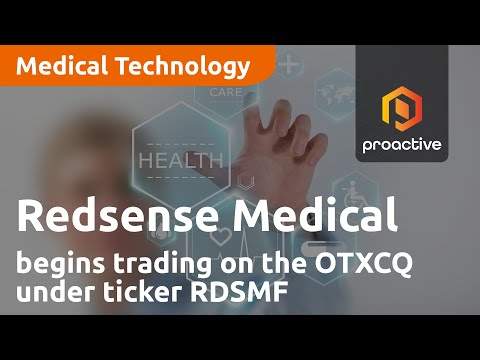 Redsense Medical CEO Pontus Nobreus joined Steve Darling from Proactive to share significant updates regarding the company's innovative Redsense System. This system plays a crucial role in monitoring and alerting healthcare providers in cases of blood leakage during hemodialysis treatments, addressing one of the most serious safety concerns in this medical field.
The Redsense System comprises a patented fiber optic sensor designed for use with either a venous needle or central venous catheter, linked to an alarm unit. The system has been developed with a strong focus on meeting the stringent safety requirements of healthcare providers in the dialysis sector. Alarmingly, globally, 21 individuals lose their lives each week due to blood leakage during hemodialysis, making this technology a critical advancement in patient care.
One major development for Redsense Medical is its recent listing on the OTCQX market under the ticker symbol 'RDSMF.' The United States is a pivotal market for the company, with 99% of its revenue in 2022 generated from the US. The company is actively planning to expand its presence in the US market, providing easier access for US investors to participate in their growth journey.
Looking ahead to the remainder of 2023 and 2024, Redsense Medical has ambitious goals, including continued growth in the US market and raising awareness about the importance of monitoring devices in home dialysis.
Additionally, the company is set to launch a new product called "The Clamp," which will further enhance patient safety during hemodialysis treatments. Overall, Redsense Medical's dedication to improving patient safety and healthcare outcomes in the field of hemodialysis positions it as a key player in the medical technology industry, and its expansion plans in the US market are poised to make a significant impact.
Contact Details
Proactive Investors
+1 604-688-8158
na-editorial@proactiveinvestors.com
View source version on newsdirect.com: https://newsdirect.com/news/redsense-medical-announces-company-has-begun-trading-on-the-otcqx-under-ticker-rdsmf-546629619