Featuring blueprints for an interconnected television show, theatrical banquet, and an annual festival all designed to create a publicly displayed, multi-dimensional artistic platform built by the communities all around the world.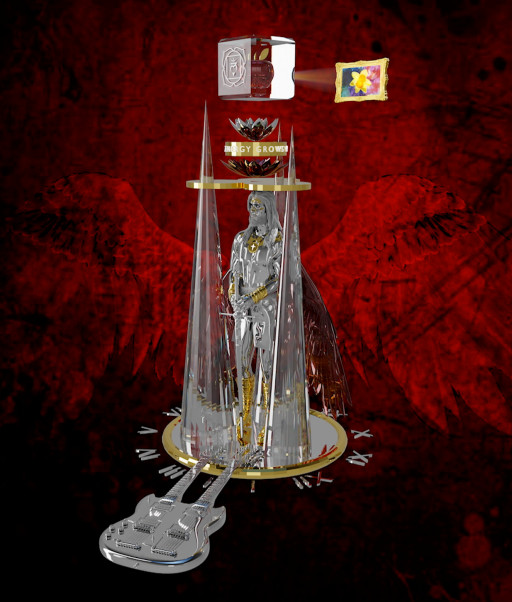 Part I: Michael \"I Am\"
Part I: Michael \"I Am\" is the first of 7-parts of \"Flight of the Angels\" Crystal Blue Collectibles NFT Series each with 12 Limited Editions available.
ORLANDO, Fla. - June 22, 2021 - (
Newswire.com
)
Following on the recent successes of the NFT Digital Art Market, Mixed Media artist Todd Bluewater is launching Part I of "Flight of the Angels", a 7-Part Crystal Blue Collectibles NFT Series, on Friday, June 25th. The series features a visual journey through the seven layers of the Chakras and has inspiration from Led Zeppelin, Apple, Current Events, Social Media, and the Power of Good. The goal, Todd says, is to use the proceeds to facilitate the birth of The Bluevision Network, and it's interconnected components for building a national community public art network based on giving.
"I've always been mesmerized by the fusion of digital and traditional art," Todd says. "When I got started, I purchased countless sets of video screens, audio systems, Apple computers, and other supplies and materials, then went to work combining it all to create an abundance of sample projects. I had no idea where it would lead me, nor that it would define the potential for Abstract Captivism™, an artistic style that combines traditional art, digital art, and corporate sponsorships to bring about a new age platform for giving," Todd says.
The journey Todd went on took him ultimately brought about the blueprints for The Bluevision Network - a vision for recognizing the rich and helping those in need. In essence, it has been designed from the inside out to become a modern-day Robin Hood. "And the kicker," Todd says, "is that the community will be able to vote where the funds received are to be distributed."
"My hope is to gain enough success with the "Flight of the Angels" NFT Series so I could use the proceeds to begin putting the overall plan in motion," Todd explains. "If I can attract collectors and/or philanthropists that will bless me with the opportunity to get the ball rolling and strike while the iron is hot, such as Mark Cuban, Elon Musk, and/or Apple Computers, well, that would be a wonderful day," he concludes.
About Todd Bluewater
Todd Bluewater has created millions of dollars in marketing materials for industry giants in Walt Disney World and Universal Studios. He went on to build and manufacture award-winning Food Trucks for national brands such as the Cleveland Rock & Roll Hall of Fame before becoming a full-time mixed media artist.
For more information about The Bluevision Network, and links to the blueprints, visit www.onegalleryplace.com.
Technology … It's What You Do With It That Counts.
###
For more information, please submit your request to: press@thebluevisionnetwork.com
Related Files
General-Overview.pdf
Press Release Service by
Newswire.com
Original Source:
Mixed Media Artist Todd Bluewater Set to Unveil First NFT Collectible Series, Unlocking Potential for a Billion-Dollar, Modern-Day Robin Hood