How Is Midstream Positioned in the Energy Transition?
April 28, 2022 at 15:33 PM EDT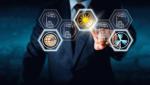 The gaining traction and importance of ESG across the investing world has not been lost on the midstream space. "When we first looked at midstream and ESG back in 2019, there were about nine or so companies that had ESG or sustainability reports in place, and nobody had net-zero emission targets,"...